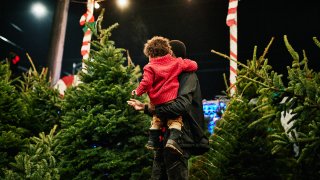 With the ongoing Coronavirus pandemic happening around the world, many have been turning to holiday decor for some much-needed cheer. Now as the end of the year approaches, it seems more families have opted for the scent and comfort of a real Christmas tree.
If this is your first time keeping a live tree at home in Florida, scroll down for some tips from Michigan State University's Department of Horticulture and Foresty on how to successfully pick out a tree and keep it looking fresh.
Officials from the Broward Sheriff's Office released a video warning residents about Christmas tree tragedies. To practice fire safety, make sure your smoke detector is working, and don't place the tree near sources of heat or exits.
Before going to buy your tree, measure the height of your ceiling, especially since trees seem smaller outdoors than they do inside.
Try to find a spot for the tree that's away from direct heat sources, because it will use more water and dry out faster. It's also convenient to place it near an electrical outlet, so you can easily plug in lights.
If you're purchasing a pre-cut tree, you can test how fresh they are by pulling on the end of a branch to see if the needles fall out. Fresh trees should hold onto all their needles; if a tree is easily loosing its needles, keep looking.
As soon as you bring the tree home, immediately place it in water. If you need to wait a bit before putting it on display, make sure you place it in a bucket full of water in the meantime. The water level should remain about one inch below the top of the stand.
If you're using a screw-in stand to prop up the tree, it's easiest when two people get the job done: one can adjust the tightening screws on the stand, while the other adjusts the tree and checks for straightness. Another option is to use a drill stand. Many tree lots will drill the trees with specially-designed drills that match the pin in the stand.
No matter what kind of stand you're using, keep the plastic twine on the tree until it's upright. It'll be much more compact and easier to handle.