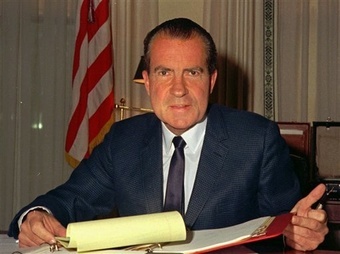 Today's Highlights in History:

On Jan. 2, 1974, President Richard Nixon signed legislation requiring states to limit highway speeds to 55 miles an hour as a way of conserving gasoline in the face of an OPEC oil embargo. (The 55 mph limit was effectively phased out in 1987; federal speed limits were abolished in 1995.) "Singing cowboy" star Tex Ritter died in Nashville at age 68.

On this date:

In 1492, Muhammad XII, the sultan of Granada, the last Arab stronghold in Spain, surrendered to Spanish forces.

In 1788, Georgia became the fourth state to ratify the U.S. Constitution.

In 1893, the U.S. Postal Service issued its first commemorative stamp to honor the World's Columbian Expedition and the quadricentennial of Christopher Columbus' voyage.

In 1900, Secretary of State John Hay announced the "Open Door Policy" to facilitate trade with China.

In 1921, the play that coined the term "robot," ''R.U.R." (Rossum's Universal Robots) by Karel Capek, was first performed in Czechoslovakia.

In 1935, Bruno Hauptmann went on trial in Flemington, N.J., on charges of kidnapping and murdering the 20-month-old son of Charles and Anne Lindbergh. (Hauptmann was found guilty, and executed.)

In 1942, the Philippine capital of Manila was captured by Japanese forces during World War II.

In 1959, the Soviet Union launched its space probe Luna 1, the first manmade object to fly past the moon, its apparent intended target.

In 1960, Sen. John F. Kennedy of Massachusetts launched his successful bid for the presidency.

In 1971, 66 people were killed in a pileup of spectators leaving a soccer match at Ibrox Stadium in Glasgow, Scotland.

In 1981, police in Sheffield, England, arrested Peter Sutcliffe, who confessed to being the "Yorkshire Ripper," the serial killer of 13 women.

In 2006, 12 miners died in a methane gas explosion at the Sago Mine in West Virginia, but one miner, Randal McCloy Jr., was eventually rescued.

Ten years ago: Insurgents shot down a U.S. helicopter west of Baghdad, killing one soldier. British flights to Washington and Riyadh, Saudi Arabia, were canceled as a security precaution. The NASA spacecraft Stardust flew through the halo of the distant comet Wild 2.

Five years ago: President George W. Bush branded Hamas rocket attacks on Israel an "act of terror" and outlined his own condition for a cease-fire in Gaza. President-elect Barack Obama and his family arrived in Chicago after a holiday vacation in Hawaii. AirTran Airways apologized to nine Muslims kicked off a New Year's Day flight to Florida. Actor John Travolta's 16-year-old son, Jett, died at the family's vacation home in the Bahamas. Peyton Manning won a record-tying third Associated Press NFL Most Valuable Player award. No. 7 Utah finished a perfect season with a 31-17 upset of No. 4 Alabama in the Sugar Bowl.

One year ago: The United Nations gave a grim new count of the human cost of Syria's civil war, saying the death toll had exceeded 60,000 in 21 months. Secretary of State Hillary Rodham Clinton left a New York hospital, three days after doctors discovered a blood clot in her head. No. 22 Louisville toppled No. 4 Florida, 33-23, in the Sugar Bowl.

Today's Birthdays: Country musician Harold Bradley is 88. Former House Speaker Dennis Hastert is 72. TV host Jack Hanna is 67. Actress Wendy Phillips is 62. Actress Gabrielle Carteris is 53. Movie director Todd Haynes is 53. Retired MLB All-Star pitcher David Cone is 51. Actress Tia Carrere is 47. Actor Cuba Gooding Jr. is 46. Model Christy Turlington is 45. Actor Taye Diggs is 43. Rock musician Scott Underwood (Train) is 43. Rock singer Doug Robb (Hoobastank) is 39. Actor Dax Shepard is 39. Actress Paz Vega is 38. Country musician Chris Hartman is 36. Ballroom dancer Karina Smirnoff (TV: "Dancing with the Stars") is 36. Rock musician Jerry DePizzo Jr. (O.A.R.) is 35. Rhythm-and-blues singer Kelton Kessee (IMX) is 33. Actress Kate Bosworth is 31. Actor Peter Gadiot (TV: "Once Upon a Time in Wonderland") is 29. Jazz singer-musician Trombone Shorty is 28.

Thought for Today: "It is good to have an end to journey towards; but it is the journey that matters, in the end." — Ursula K. Le Guin, American author.
Copyright AP - Associated Press