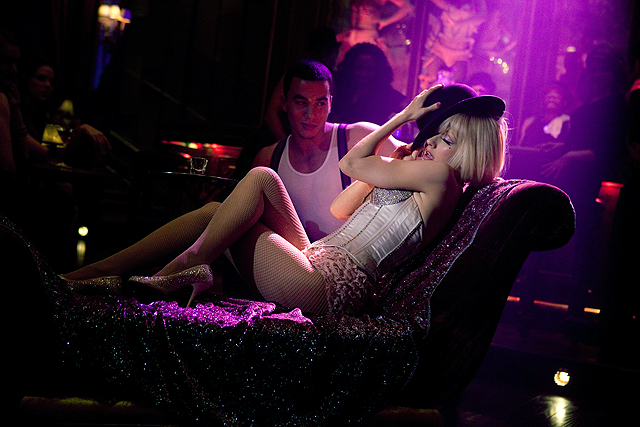 Today's Highlight in History:
On March 23, 1914, the first installment of "The Perils of Pauline," the legendary silent film serial starring Pearl White, premiered at theaters in the greater New York City area, including movie houses in New Jersey, Connecticut and Massachusetts.
On this date:
In 1775, Patrick Henry delivered an address to the Virginia Provincial Convention in which he is said to have declared, "Give me liberty, or give me death!"
In 1806, explorers Meriwether Lewis and William Clark, having reached the Pacific coast, began their journey back east.
In 1919, Benito Mussolini founded his Fascist political movement in Milan, Italy.
In 1933, the German Reichstag adopted the Enabling Act, which effectively granted Adolf Hitler dictatorial powers.
In 1942, the first Japanese-Americans evacuated by the U.S. Army during World War II arrived at the internment camp in Manzanar, Calif.
In 1956, Pakistan became an Islamic republic.
In 1964, actor Peter Lorre, 59, died in Los Angeles.
In 1973, before sentencing a group of Watergate break-in defendants, Chief U.S. District Judge John J. Sirica read aloud a letter to him from James W. McCord Jr. which said there had been "political pressure" to "plead guilty and remain silent."
In 1983, President Ronald Reagan first proposed developing technology to intercept incoming enemy missiles -- an idea that came to be known as the Strategic Defense Initiative. Dr. Barney Clark, recipient of a Jarvik permanent artificial heart, died at the University of Utah Medical Center after 112 days with the device.
In 1994, Aeroflot Flight 593, an Airbus A310, crashed in Siberia with the loss of all 75 people on board; it turned out the teenage son of a pilot who was allowed to sit at the controls accidentally disengaged the autopilot, causing the jetliner to plunge to the ground. Luis Donaldo Colosio, Mexico's leading presidential candidate, was assassinated during a rally in Tijuana. Wayne Gretzky broke Gordie Howe's National Hockey League career record with his 802nd goal.
In 2010, President Barack Obama signed a $938 billion health care overhaul, declaring "a new season in America."
In 2011, Academy Award-winning actress Elizabeth Taylor died in Los Angeles at age 79.
Ten years ago: A federal commission concluded that Clinton and Bush administration officials had engaged in lengthy, ultimately fruitless diplomatic efforts instead of military action to try to get Osama bin Laden before the 9/11 attacks; top Bush officials countered that the terror attacks would have occurred even if the United States had killed the al-Qaida leader. A report by Medicare trustees said that without changes, the federal health care program would go broke by 2019, seven years earlier than expected.
Five years ago: The Obama administration unveiled a plan to take over up to $1 trillion in sour mortgage securities with the help of private investors; Wall Street responded by hurtling the Dow Jones industrials upward nearly 500 points. Japan defended its 2006 World Baseball Classic title with a 5-3 win over South Korea at Dodger Stadium in Los Angeles.
One year ago: President Barack Obama concluded a four-day visit to the Middle East as he marveled at the beauty of one of the region's most stunning sites, the fabled ancient city of Petra in Jordan. Pope Francis traveled from the Vatican to Castel Gandolfo south of Rome to have lunch with his predecessor, Benedict XVI. Boris Berezovsky, 67, a self-exiled and outspoken Russian tycoon who'd had a bitter falling out with Russian President Vladimir Putin, was found dead in Ascot, England, an apparent suicide.
Today's Birthdays: Comedian Marty Allen is 92. Sir Roger Bannister, the runner who broke the 4-minute mile in 1954, is 85. Movie director Mark Rydell is 85. Motorsports Hall of Famer Craig Breedlove is 77. Singer-producer Ric Ocasek is 65. Singer Chaka Khan is 61. Actress Amanda Plummer is 57. Actress Catherine Keener is 55. Actress Hope Davis is 50. Comedian John Pinette is 50. Actor Richard Grieco is 49. Country musician Kevin Griffin (Yankee Grey) is 49. Actress Marin Hinkle is 48. Rock singer-musician Damon Albarn (Blur) is 46. Actress-singer Melissa Errico is 44. Rock musician John Humphrey (The Nixons) is 44. Actress Michelle Monaghan is 38. Actress Keri Russell is 38. Actress Anastasia Griffith is 36. Gossip columnist-blogger Perez Hilton is 36. Actress Nicholle Tom is 36. Country singer Paul Martin (Marshall Dyllon) is 36.
Thought for Today: "A man who fears suffering is already suffering from what he fears." — Michel de Montaigne, French essayist (1533-1592).
Copyright AP - Associated Press