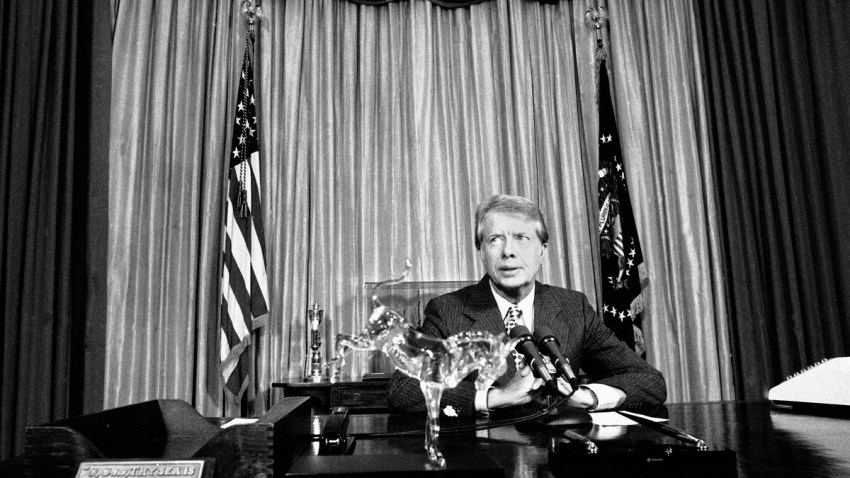 Today's Highlight in History:
On Oct. 6, 1927, the era of talking pictures arrived with the opening of "The Jazz Singer," starring Al Jolson, a movie that featured both silent and sound-synchronized sequences.
On this date:
In 1536, English theologian and scholar William Tyndale, who was the first to translate the Bible into Early Modern English, was executed for heresy.
In 1683, thirteen families from Krefeld, Germany, arrived in Philadelphia to begin Germantown, one of America's oldest settlements.
In 1884, the Naval War College was established in Newport, R.I.
In 1928, Chiang Kai-shek became president of China.
In 1939, as remaining military resistance in Poland crumbled, Adolf Hitler delivered a speech to the Reichstag blaming the Poles for the Nazi-Soviet invasion of their country.
In 1949, U.S.-born Iva Toguri D'Aquino, convicted of treason for being Japanese wartime broadcaster "Tokyo Rose," was sentenced in San Francisco to 10 years in prison (she ended up serving more than six).
In 1958, the nuclear submarine USS Seawolf surfaced after spending 60 days submerged.
In 1973, war erupted in the Middle East as Egypt and Syria attacked Israel during the Yom Kippur holiday.
In 1976, in his second debate with Jimmy Carter, President Gerald R. Ford asserted there was "no Soviet domination of eastern Europe." (Ford later conceded he'd misspoken.)
In 1979, Pope John Paul II, on a week-long U.S. tour, became the first pontiff to visit the White House, where he was received by President Jimmy Carter.
In 1981, Egyptian President Anwar Sadat was shot to death by extremists while reviewing a military parade.
In 1989, actress Bette Davis died in Neuilly-sur-Seine, France, at age 81.
Ten years ago: American Paul Lauterbur and Briton Peter Mansfield won the Nobel Prize for medicine for discoveries that led to magnetic resonance imaging. Democrat Bob Graham announced on CNN's "Larry King Live" that he was ending his presidential campaign. Akhmad Kadyrov, Russia's hand-picked man to lead Chechnya, was declared winner of the republic's presidential election. (He was assassinated in May 2004.).
Five years ago: As Wall Street reeled and global markets plunged, President George W. Bush said the U.S. economy was going to be "just fine" in the long run, but cautioned that the massive rescue plan would take time to work. The Dow industrial average dropped to 9,955, its first close below 10,000 since 2004. Germany's Harald zur Hausen and French researchers Francoise Barre-Sinoussi and Luc Montagnier shared the 2008 Nobel Prize in medicine.
One year ago: Five terror suspects, including Egyptian-born preacher Mustafa Kamel Mustafa, widely known as Abu Hamza al-Masri, arrived in the United States from England and appeared in court in New York and Connecticut. Mustafa is accused of conspiring with some Seattle men to set up a terrorist training camp in Oregon and of helping abduct two American tourists and 14 other people in Yemen in 1998.
Today's Birthdays: Broadcaster and writer Melvyn Bragg is 74. Actress Britt Ekland is 71. Singer Millie Small is 67. The president of Sinn Fein, Gerry Adams, is 65. Singer-musician Thomas McClary is 64. Musician Sid McGinnis (TV: "Late Show with David Letterman") is 64. CBS chief executive officer Les Moonves is 64. Rock singer Kevin Cronin (REO Speedwagon) is 62. Rock singer-musician David Hidalgo (Los Lobos) is 59. Former NFL player and coach Tony Dungy is 58. Actress Elisabeth Shue is 50. Singer Matthew Sweet is 49. Actress Jacqueline Obradors is 47. Country singer Tim Rushlow is 47. Rock musician Tommy Stinson is 47. Actress Amy Jo Johnson is 43. Actress Emily Mortimer is 42. Actor Lamman Rucker is 42. Actor Ioan Gruffud is 40. Actor Jeremy Sisto is 39. Rhythm-and-blues singer Melinda Doolittle (TV: "American Idol") is 36. Actor Wes Ramsey is 36.
Thought for Today: "Talking comes by nature, silence by wisdom." — Author unknown.
Copyright AP - Associated Press