A confrontation with a Miami Beach police officer that was caught on camera ended with two tourists tased and on the ground Thursday in the middle of South Beach.
According to arrest reports, Catrina Jones and Kevin McMiller started arguing with the officer after McMiller allegedly threw a glass liquor bottle at the officer's squad car.
The report stated that the couple, who are from Chicago, got within inches of the officer's face and threatened to beat him up.
At one point in the cellphone video of the incident, the officer was seen pushing McMiller, then the suspect turned around and walked away. That's when the officer used a Taser on him.
Jones tried to help, then was also tased and fell down.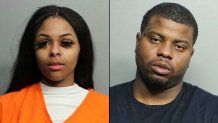 According to the report, the officer said he told them to stop before using his Taser.
Jones, 29, was charged with resisting officer with violence. McMiller, 31, was charged with battery, resisting officer with violence, and carrying an open container of alcohol.
Both Jones and McMiller have posted bond. Attorney information wasn't available.