Officials warn drivers to plan commutes accordingly as thousands of bicyclists are expected to converge on the streets of Miami Beach Friday night for this month's Critical Mass.
This month's bike ride, which starts at 7:15 p.m., will honor cyclists who have lost their lives to drunk and distracted driving, according to organizers of the event.
The 20-mile ride will be going through Historic Overtown, Wynwood, Little Haiti, Upper East Side, North Bay Village, North Beach, Miami Beach, Venetian Islands and Downtown.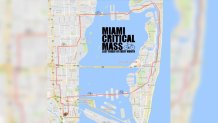 Miami Critical Mass is not a city sanctioned or permitted event, but Miami Beach police officers will be present at key intersections along the route.
For more information, visit www.themiamibikescene.com.