Dozens of people raced through South Florida Thursday afternoon hoping to find a treasure trove of free food and cash in an old-fashioned treasure hunt.
Florida Treasure Hunt teamed up with McDonald's and sent people through Miami-Dade and Broward Counties searching for seven hidden clues.
"This is a great way to incentivize people to come out in the summer and have a good time here in Miami and learn more about our city as they give us the clues to give us the next place to go," said Chris Willis, who had been studying up on local landmarks to strategize a plan.
It all started at the Magic City Casino where the Burger Beast Museum unveiled the first clue which read: Head north of Midtown and south of Miami Shores. Between 81 and 82 and you'll soon be there. Keep an eye out for Golden Arches, they will help you with your treasure search. Ronald will be there with his bright red hair, give him a wave and know the clue is near.
From there participants read clues that sent them to Haulover Park, Gulfstream Park, Hollywood and eventually Pembroke Pines.
"I'm working with my girlfriend as well so we'll see what she thinks. We've done pretty well so far, we made it this far," said Rebecca Amuso, as she read clue #4.
Despite the traffic, treasure hunters moved pretty fast. Claudia Alonso, her sister Yerandi and fiancé Patrick came in first place at the final stop, McDonald's on Pines Boulevard near Flamingo Road.
"It was neck and neck most of the way so wherever I saw our competitors going, I went the opposite way and that's what gave us an edge cause we got here literally 30 seconds before the next person," said Patrick.
The winning team went home with $1,000 check and free McDonald's breakfast for a year.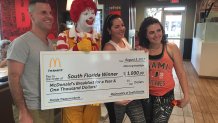 Florida Treasure Hunt has another event planned Saturday in Sarasota. They hope to host more in the Miami area in the future.
"We want to spark positivity by getting people outdoors, a sense of adventure in their lives we feel is priceless, and create family bonding time," said Bo Griswold of Florida Treasure Hunt.