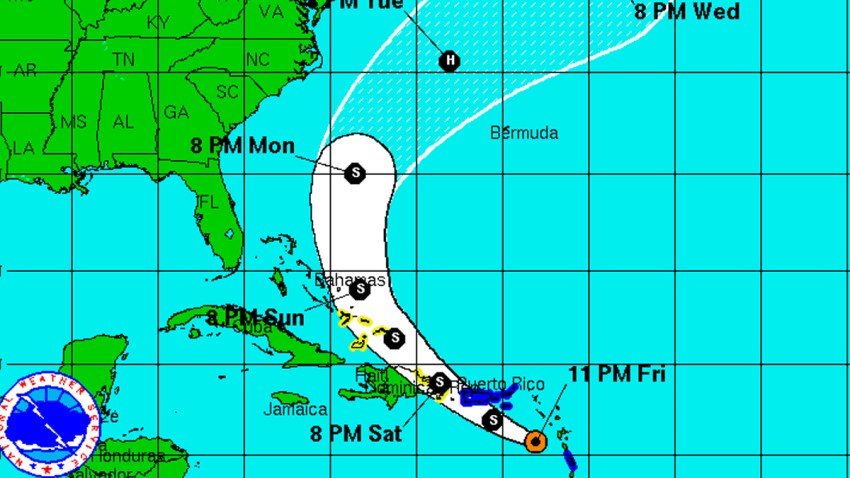 Tropical Storm Bertha was disorganized as it moved toward the west-northwest through the northeastern Caribbean Sea.
At 11 p.m., Bertha was about 275 miles southeast of San Juan, Puerto Rico as it moved west-northwest at 22 mph with maximum sustained winds of 50 mph, according to the National Hurricane Center in Miami.
Ahead of the storm, tropical storm watches and warnings have been issued for multiple islands. The warnings and watches are as follows:
Tropical Storm Warning – Martinique, Puerto Rico, Vieques, Culebra, U.S. Virgin Islands, British Virgin Islands
Tropical Storm Watch - The Eastern Dominican Republic from Cabo Engano to Isla Saona, the Southeastern Bahamas, and the Turks and Caicos Islands
A Hurricane Hunter aircraft checked out Bertha Friday morning and found it had gained a little strength but remained disorganized.
Bertha became the second tropical storm of the 2014 Atlantic Hurricane season Thursday.
Bertha is expected to move away from Martinique into the northeast Caribbean Sea ove rthe next several hours. It will then pass near Puerto Rico and the Virgin Islands and approach the Southeastern Bahamas by Sunday. The storm is not expecting to strengthen in the next 48 hours, according to the NHC.
[NATL-MIA]A Look Back at Hurricane Andrew 25 Years Later