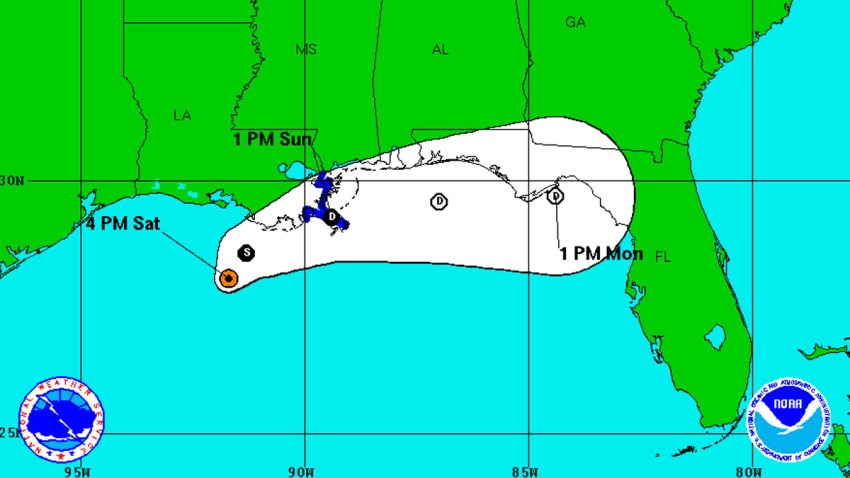 Karen weakened to a tropical depression over the north central Gulf Saturday night, the National Hurricane Center in Miami said.
As of 11 p.m., Karen was stationary and was located about 120 miles south-southwest of Morgan City, La., and about 185 miles west-southwest of the mouth of the Mississippi River. It had maximum sustained winds of 35 mph.
All tropical storm warnings were discontinued.
Karen was expected to make a turn to the northeast by Saturday night followed by a faster motion toward the east-northeast Sunday night and Monday.
Karen could produce storm surges and rainfall of between 1-3 inches over parts of the central Gulf Coast and southeastern U.S. through Monday evening, mainly near and to the right of the path of the center of the storm, the hurricane center said. Isolated amounts of as high as 6 inches are possible.
On Saturday, Florida Gov. Rick Scott issued an updated order declaring a state of emergency in several counties as a result of Karen.
The state of emergency was declared for Bay, Calhoun, Escambia, Gulf, Holmes, Jackson, Okaloosa, Santa Rosa, Walton, Madison, Liberty and Washington Counties.
"As Tropical Storm Karen continues to disorganize, families should still use today as an opportunity to get ready," Scott said in an email statement. "Communities along the panhandle are expected to experience heavy rains, and storm surges are predicted for our coastal regions. We'll continue to work closely with local and federal partners to ensure our communities are safe."
More Weather Content: