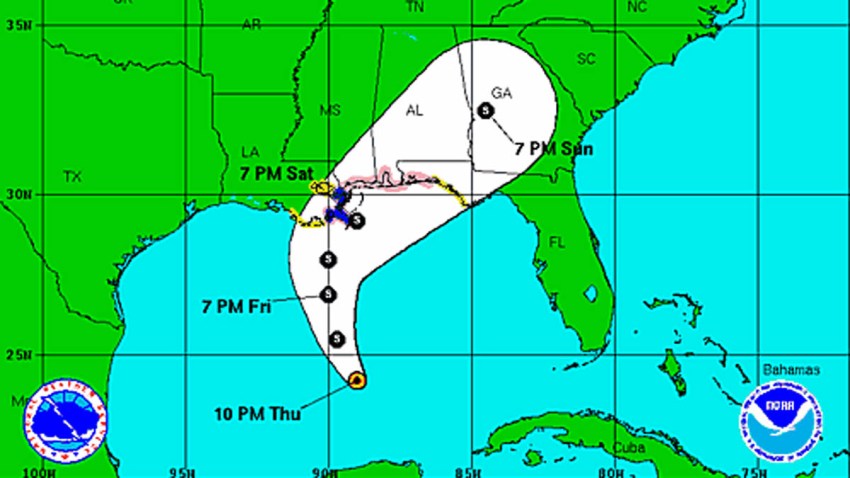 Tropical Storm Karen formed in the southeast Gulf of Mexico Thursday and was expected to approach the northern Gulf Coast on Saturday, according to the National Hurricane Center in Miami.
As of 11 p.m., the storm was 340 miles south of the mouth of the Mississippi River with maximum sustained winds of 65 mph. It was moving north-northwest at 10 mph.
A hurricane watch was in effect from Grand Isle, Louisiana, to west of Destin, Florida, while a tropical storm watch was in effect from Destin to Indian Pass, Florida, the National Hurricane Center said.
A tropical storm watch was also in effect from west of Grand Isle to east of Morgan City, Louisiana, as well as in metropolitan New Orleans, Lake Maurepas and Lake Pontchartrain.
Florida Gov. Rick Scott declared a state of emergency in 18 Florida counties. Though the federal government is partially shut down, the Federal Emergency Management Agency said that resources would be available for Tropical Storm Karen, Scott said.
"Our number one priority is the safety of our citizens. We will not let the government shutdown in Washington in any way hurt our emergency response efforts in Florida," Scott said in a statement. "I spoke to FEMA Administrator Craig Fugate this evening and got his personal assurance that no federal resource would be denied in response to Tropical Storm Karen, despite the ongoing federal shutdown."
A tropical storm warning was in effect for southeastern Louisiana from Grand Isle to the mouth of the Pearl River.
Louisiana Gov. Bobby Jindal declared a state of emergency for the storm.
"The position of the storm is increasing deep tropical moisture and spreading it to central Florida," said National Hurricane Center spokesman Dennis Feltgen.
He added that is a "better than average chance of thunderstorms," for South Florida. But that the Panhandle will be impacted more with possible tropical storm weather Friday and Saturday.
Karen is expected to strengthen and could be at or near hurricane strength late Friday and early Saturday. The storm is expected to turn toward the north on Friday with a gradual turn to the northeast on Saturday.
Karen's center is expected to be near the coast within the tropical storm warning area on Saturday.

Karen is the 11th named storm of the 2013 Atlantic hurricane season.
Meanwhile, what was Tropical Depression Jerry became a remnant low over the Atlantic Thursday, the National Hurricane Center said.
As of 5 p.m., Jerry had maximum sustained winds of 35 mph. It was located about 790 miles west-southwest of the Azores and was moving east-northeast at 14 mph, the hurricane center said in its last advisory on the system.
Jerry no longer had sufficient organized shower and thunderstorm activity to qualify as a tropical cyclone and had become a post-tropical cyclone, the hurricane center said. It was expected to dissipate in a couple of days.
There were no coastal watches or warnings in effect.

Check back with NBC 6 South Florida and NBC6.com for updates.
More Content from NBC6.com: