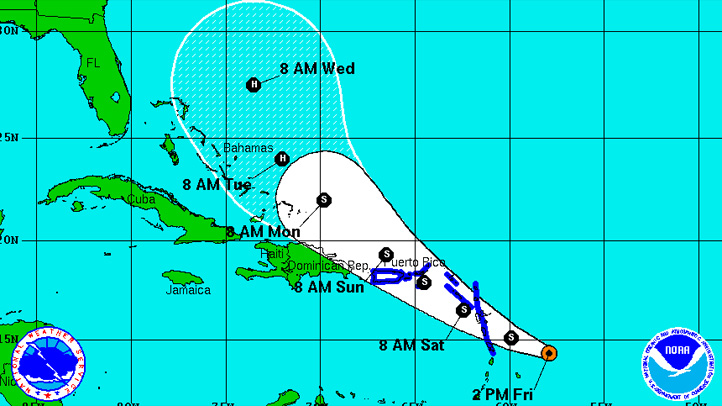 Tropical Storm Maria continued moving through the Atlantic Friday, but it was still too early to tell how close it will pass to Florida, according to the National Hurricane Center in Miami.

As of the latest NHC update at 5 p.m., Maria had maximum sustained winds near 45 mph as it moved west-northwest at 16 mph.

The storm was about 125 miles north-northeast of Barbados and 215 miles east-southeast of Guadeloupe.
"Folks should still be paying attention," said hurricane specialist Daniel Brown.
Brown said the track shows the storm turning just east of the Bahamas early next week, but there is still a lot of uncertainty. Within the next day or so experts will know more, he said.
"We don't expect significant strengthening in the next day or so," he said.
A tropical storm warning was in effect for the U.S. and British Virgin Islands, Puerto Rico, Antigua, Anguilla, Barbuda, Dominica, Montserrat, Nevis, St. Kitts, Guadeloupe, St. Maartin, Saba and St. Eustatius. A tropical storm watch was in effect for St. Barthelemy, St. Marteen and Martinique.

Slight strengthening is possible over the next 48 hours.

Meanwhile, Hurricane Katia continued moving to the northeast away from the U.S. east coast as a Category 1 storm with winds near 85 mph. Katia was expected to weaken in the next 48 hours and become a post-tropical cyclone.