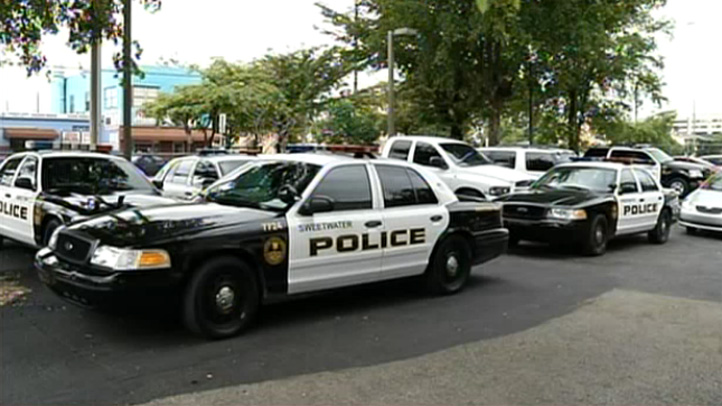 Less than a week after a Sweetwater Police detective was arrested on fraud and identity theft charges, two police officers and a civilian employee were relieved of duty Wednesday, a city spokeswoman said.

Detective Octavio Oliu, Acting Sergeant Reny Garcia and red-light camera reviewer Richard Brenner were relieved of duty with pay, spokeswoman Michelle Hammontree-Garcia said.

The details behind why they were relieved of duty were unknown. Hammontree-Garcia said no other statements would be made. A spokeswoman for the Miami-Dade Police Benevolent Association said she was looking into the details of the suspensions.
Speeding Miami Cop Wants His Job Back

In another incident, Oliu and Brenner were named in a lawsuit filed against the city in May by Daniel LaRosa, who was arrested in March 2012 for allegedly making a threat against a Sweetwater officer on Facebook.

LaRosa had been arrested on a charge of corruption by threat against a public servant after he posted a photo to Facebook through the Instagram application labeled "Diary of a Cop Killa" that showed a video game character wearing a gas mask and pointing a gun with two dead policemen in the background, police said.

The text with the photo says "Make my day!!!" and "It's sweetwater pd that's gotta die!!! Lol," police said.
Man Stole N. Miami Beach Police Car to "Drive Around": Cops

According to the lawsuit, LaRosa, a teacher at a school for special needs students, was arrested at the school by Oliu and Brenner.

A Sweetwater Police report filed by Oliu and Brenner at the time of the arrest said LaRosa admitted to making the posting and said he did it after breaking up with his girlfriend and learning she was dating a Sweetwater cop.

The lawsuit claimed LaRosa posed no threat to any police officer when he made the posting on January 30, 2012, up to and including when he was arrested on March 5.

"The facts and circumstances within the knowledge of Officers Brenner and Oliu would cause no reasonably prudent person to believe that LaRosa had committed any crime, particularly that for which he was arrested, because it is unquestionable that LaRosa's Instagram posting was not made with any intent to influence any act or omission within the official discretion of any public servant," the lawsuit states.
Woman Arrested for DUI Tries to Steal Patrol Car: Deputies

The charge against LaRosa was dropped in April 2012, the lawsuit said.

According to the lawsuit, the arrest caused LaRosa abuse and harassment and violated his constitutional rights. It claims LaRosa was falsely imprisoned, was the victim of malicious prosecution and was defamed.

"LaRosa has suffered humiliation and other severe emotional and psychological trauma," the lawsuit claims.

Acting Sergeant Reny Garcia is not named in the lawsuit. When asked whether the whether the suspensions of Oliu, Brenner and Reny Garcia were related to the lawsuit, Hammontree-Garcia said not to her knowledge.

The incident comes just days after Sweetwater Det. William Garcia was arrested on charges of credit card fraud and identity theft. According to a release from the U.S. Department of Justice, Garcia used his credit card to help create fraudulent credit cards from late 2010 to 2011.

He hid the evidence when he learned that a co-conspirator had been arrested and kept and used the false credit cards that he claimed had been seized during the course of his duties, the release said.

Hammontree-Garcia said the arrest of William Garcia wasn't related to the suspensions of the other law enforcement officers.

Last month, Sweetwater Mayor Manuel Marono was suspended by Gov. Rick Scott after he was arrested on public corruption charges.