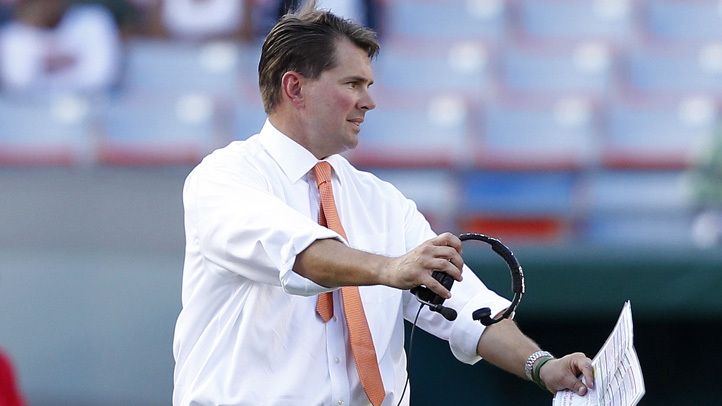 A new season begins on Friday, but the University of Miami football program is still waiting for a resolution to the NCAA investigation into impermissable benefits that started in 2011.
The NCAA's Committee on Infractions heard UM's response to the charges brought forth following the Nevin Shapiro investigation over two months ago, but the Canes have once again looked to put the scandal past them and not think about what sanctions may be handed down by the NCAA.
"I hope we have a mature group. I really do," Miami coach Al Golden said Monday. "I hope our guys are focused on just one thing, and that's Florida Atlantic and getting better today. Man, I feel like we did. I feel like we came over here with a purpose."
Golden, UM Hope for "Closure" With NCAA
Miami plays its first game of the season at home Friday night against Florida Atlantic. Golden's players say sanctions are the farthest thing from their mind, what with the quest for the school's Atlantic Coast Conference title immediately at hand.
"We've been going through it for a while," said quarterback Stephen Morris. "Our biggest thing is, we're always putting our trust in Coach Golden and President (Donna) Shalala and everything that they do. We're not thinking about it. We're not worried about it. It is what it is right now."
While Morris was circumspect, defensive lineman Shayon Green said, "I don't focus on that stuff. You have to ask Coach Golden about it."
NCAA Opens Hearing on Alleged UM Violations
But as Golden pointed out, he has never coached a game at Miami without the Shapiro scandal looming. Less than a month before his first game as Miami coach, it was revealed that Shapiro, now serving a 20-year prison sentence for masterminding a $930 million Ponzi scheme, allegedly provided impermissible benefits to scores of Miami football and basketball players and recruits over an eight-year period.
"In terms of following a master plan, that plan got torn up in 2011, Aug. 14," Golden said. "We've been really just fighting since that moment. We're really not in any stage of a plan or anything. We're fighting and we're building and we're going to continue to build. We have great kids on this team that have bought in."
Miami officials have hoped the NCAA would issue its ruling on the Shapiro case before the season kicks off, but there is not much time left for that to happen.
Copyright AP - Associated Press