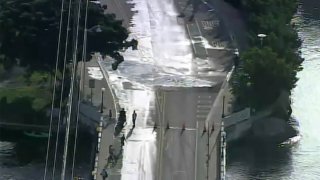 A stretch of the Venetian Causeway in Miami Beach was closed Friday following a break of a wastewater main, officials said.
Miami Beach officials said both directions of the Venetian were closed at Purdy Avenue due to the emergency public works repairs.
The Florida Department of Environmental Protection said the wastewater flow was stopped just before 11 a.m.
Officials were conducting water quality sampling to determine if the wastewater reached surface water.
Check back with NBC 6 for updates.