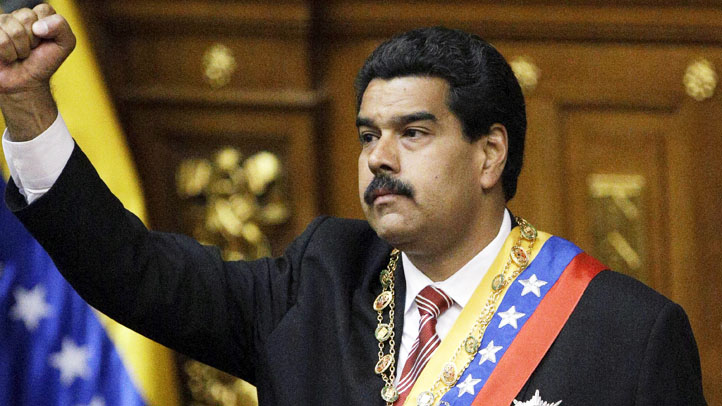 Social media users are abuzz following a gaffe in which Venezuelan President Nicolas Maduro reworked a biblical miracle to include the multiplication of penises.
During a speech on education Wednesday, the South American leader misspoke while referencing the passage where Jesus multiplies loaves of bread and fish, using the Spanish word for "penises" (penes) instead of the Spanish word for "fish" (peces).
The slip-up was made as Maduro outlined plans to expand education, saying in Spanish that his government would "go in school by school, child by child, high school by high school, community by community — to embed ourselves in there. To multiply ourselves like Christ multiplied the penises — sorry, the fish — and the bread."
Twitter users spread the word using hashtags such as #EpicFail and posting memes quoting the botched phrase (see below).
The speech was made Wednesday morning from Miranda state, and it marks the second time Maduro has made a mistake during a speech, according to the Latin Times. On Aug. 10, Maduro incorrectly pronounced the Spanish word for "millions," making it a feminine noun instead of a masculine noun, the online publication reported. In Spanish, all nouns are assigned a gender.
Maduro was elected president of Venezuela on April 14 following the death of President Hugo Chavez. As vice president and Chavez's hand-picked successor, Maduro had been appointed acting president following the announcement of Chavez's death on March 5.
Below are some of the reactions on Twitter:
Panes + Peces = PENES #EpicFail @NicolasMaduro — LayNg (@LayNg) August 28, 2013
#Frases @NicolasMaduro pic.twitter.com/eBFfdOKJD9 — Emmanuel Alejandro (@eavprrra) August 28, 2013
Hahaha so I just read about Nicolas Maduro's speech and Christ did what?!?!? He multiplied "penises"?!?!? God bless! — Sofy Cortez (@WileeBaggins) August 30, 2013
See video of Maduro's gaffe below:
More Weird Stories: