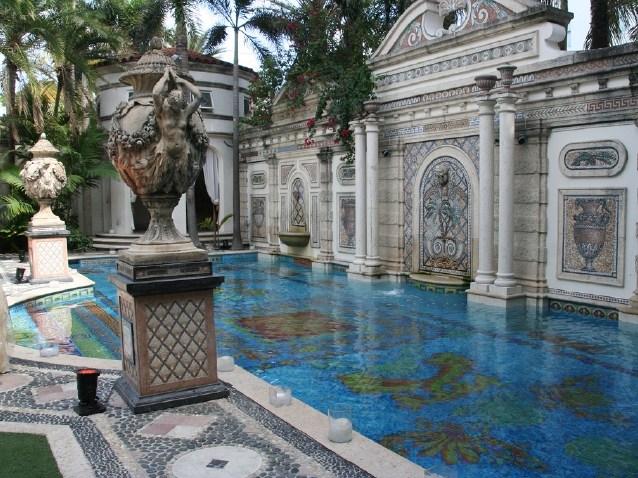 He's served macaroni and cheese on a mousetrap, sent a live giraffe to an opening, and thrilled even the most jaded of celebs and socialites with his flamboyant food -- but if entertaining impresario Barton G. Weiss can pull off a revival of the former Versace mansion on South Beach, starting tonight with its reopening, it'll go down as his biggest "wow" of all.
The property, Casa Casuarina, is notorious not just as the site of a fashion designer's tragic murder but as a place where high-profile restaurant and nightclub efforts go to die. But Weiss is so convinced he can succeed where many others have failed, he signed a 10-year lease, agreed to cover all maintenance expenses, taxes, and insurance, and sunk a million dollars into renovations.
"The concept never worked,'' he told the Miami Herald. "They operated it like the Hugh Hefner party palace. And it's so not.
"I think my name will breed definite stability, definite quality. When I erased the name and made it 'the Villa by Barton G.', it tells you what it is.''
It does indeed. Out are the members-only club, the $50 tours, and staff handing out menus on the street; in are personal butlers, reservations-only dinners, $48 racks of lamb and $30 afternoon teas.
The place will no longer cater to "wannabes," as Weiss' food and beverage manager Steve Haas puts it, but to "people who actually are."
No doubt he refers in part to disgraced Ponzi schemer Scott Rothstein, the last to try his hand at turning the estate into a profitable nighttime destination in partnership with property owner Peter Loftin. Rothstein's bid was accompanied by state and federal tax leins on the building, and fell apart when he was charged with running a billion-dollar Ponzi scheme.
Can Barton G. bring glory back to the building's guilded walls? If anyone can, he seems the surest bet: he purchased Gianni Versace's china years ago for an event, served as Casa Casuarina's caterer for a time until 2006, and has style enough to match a mansion whose pool features gold tile inlay.
"[Casa Casuarina is] now ready for the most brilliant, flamboyant restaurateur to give what it deserves,'' Loftin offered in support. "No one does it like Barton.''