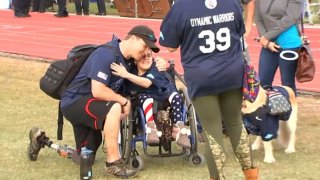 Veterans and their families are granted free admission to a special flag football game Wednesday night that will include NFL Alumni.
Wounded Warriors Amputees and NFL Alumni Game-of-Honor will take place at Nova High School in Davie at 6 p.m.
The game will be hosted by Montel Williams and feature NFL players and South Florida celebrities like: Oronde Gadsden, OJ McDuffy, Patrick Surtain, Joe Andruzzi, Jeff Garcia, Kyle Turley, BJ Ganem and William Henderson.
Wounded Warrior Amputees is comprised of Iraq and Afghanistan veterans.
While most of America and millions across the globe will be glued to their televisions Sunday evening for Super Bowl 54, on Wednesday the game between the Chiefs and the Niners took a back seat.
At Nova High School, the Wounded Warriors flag football team was taking on the NFL alumni team which had players like former Dolphin's great O.J. McDuffie on the squad.
"Anytime you get to hang out with those who served and laid it on the line for us man, and gave us the opportunity to play the sports we loved, that's what it's all about," McDuffie said.
It's the 9th year the game has taken place, and this year both squads played in honor of those who lost their lives in the Parkland tragedy.
Coach Aaron Feis and Athletic Director Chris Hixon are being remembered for their contributions to sports and students at Marjory Stoneman Douglas.
Some MSD football players lined the field, and several parents of those killed came to see the game.
" God bless those families… and their kids and those who continue to deal with it. We have to continue to be their support. We are one big family. We are one big community and we are here for them," MDuffie said.
The Wounded Warriors consist of military veterans who have lost a limb, but that doesn't stop them from competing. They set an example for all the follow.
B.J. Ganem Is the captain of the Wounded Warriors team who took the field. He lost his leg in Iraq in 2004 but feels fortunate and goes on representing five of his team members who were killed .
" I have been the captain of this team since 2013 and its been one of my greatest accomplishments just being out here with the NFL legends and these military veterans who have sacrificed so much and we show everybody what we can do when we work together," Ganem said.
Also honored, the family of former Davie police officer Curt Mancini who had been called to active duty and was killed in Afghanistan in 2004. The action on the field putting even the game at Hard Rock Stadium Sunday in perspective.
Wounded Warrior Amputees is comprised of Iraq and Afghanistan veterans.