A homeless man was arrested Thursday after a violent altercation with two police officers in Hialeah.
Jose Herrera, 54, was captured on surveillance video slapping a female officer in the face during the encounter.
The incident happened outside a convenience store located on East 49th Street and 4th Avenue. The two police officers were called to the store after the business owner complained about Herrera causing a disturbance.
When the officers approached the 54-year-old, he walked away and suddenly slapped one of the officers in the face, police said. In the footage, Herrera and the two officers tussle before he is tasered to the ground.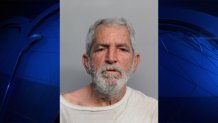 The officer who was slapped suffered lacerations to both arms and complained on pain on both knees. The second officer suffered a few bumps and bruises on her knee.
Herrera sustained a scratch on his chest. He was arrested and charged with aggravated assault on a law enforcement officer and resisting arrest with violence. The suspect is being held on $10,000 bond.
Police said Herrera has trespassed the business several times and has refused to comply with officers' orders in the past.