Police are searching for a suspect after three people were injured in a shooting on a busy Miami Beach street Sunday evening, officials said.
Miami Beach police said the shooting happened in the 700 block of Washington Avenue shortly before 9 p.m.
Witnesses at a nearby restaurant told NBC 6 they heard at least 20 gunshots and dropped to the ground. Surveillance video showed the restaurant patrons dropping for cover.
"I'm still freaked out," bystander Mac Lawson said. "If we were 30 feet more to one side, we would have been shot."
Two men who were suffering from gunshot wounds and were treated at the scene by fire rescue before being taken to the hospital. One man was reported to be in critical condition, while the other was stable. A third victim, a woman, was grazed by a bullet and located near the area before she was transported to a local hospital.
Police said they identified at least two types of shell casings at the scene, leading them to believe an exchange of gunfire took place. A suspect reportedly fled in a dark SUV, possibly a Jaguar, with tinted windows and three men inside, police said.
Officials later identified the suspect as Keshawn McLean. Police initially said he was 32 but later confirmed his age as 24.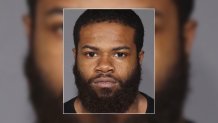 "This has been a busy weekend," Miami Beach Police Officer Ernesto Rodriguez said. "We have dozens of officers... our number one priority is safety for all."
Get South Florida local news, weather forecasts and entertainment stories to your inbox. Sign up for NBC South Florida newsletters.
A portion of Washington Avenue was closed as officials conducted their investigation.
On Monday, Miami Beach Dan Gelber said the shooting was just one of many recent incidents that the city wants to crack down on.
"Our city is outraged, what we've seen this weekend and frankly showing itself for some time now is well beyond unacceptable for our residents," Gelber said at a news conference.
Gelber said the city is increasing its police presence and will be bringing in additional officers from Miami-Dade County on the weekend.
He also said many of the incidents involve visitors to the area, not residents. He said he wants Miami Beach to be a cultural destination, not a party destination or an "anything goes" city.
"Don't come here if you want to misbehave, if you have bad intentions go somewhere else or stay home," Gelber said.
This is a breaking news story. Please check back for more updates.