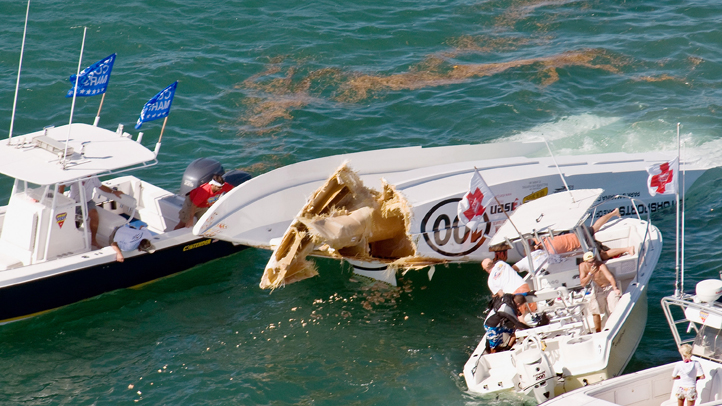 Normal 0 false false false EN-US X-NONE X-NONE The widow of a powerboat racer who died last November when the 38-foot-boat he was in overturned is filing suit against the race's producer and two medical directors.
Widowed Priscilla Gratton's lawyer Michael Allweiss, who is a former director of the American Power Boat Association, filed a wrongful death lawsuit in Broward Circuit Court against John Carbonell, the president of the Key West Super Boat World Championship, and medical directors Donald DiPetrillo and Brian Haff, The Miami Herald reports.

The suit accuses them of gross negligence and demands damages of more than $15,000 and a jury trial, according to the Herald.
Joey Gratton, 59, of University Park died Nov. 11, during a 6.5-mile course race. Gratton had to be pulled out from under the capsized catamaran and airlifted to Ryder Trauma Center at Jackson. He was the third racer to die in the racing event.
According to the lawsuit, Gratton was alive and uninjured, breathing from an emergency air tank, while he fought to free himself from the harness. Carbonell, who hovered above in a helicopter, held back certified rescue dive paramedics and instead selected two "untrained, inexperienced and ill-equipped volunteers" to attempt the rescue from a nearby boat to save money, the suit says.
The Miami-Dade Medical Examiner's office ruled that Gratton's death was accidental, according to the Herald, which could not reach Carbonell, DiPetrillo or Haff for comment.
The suit alleges that the volunteers took several minutes to get to the catamaran which began to sink, and trapped Gratton inside. By the time rescuers arrived, Gratton's air supply had ran out, and he ultimately drowned.
"This should have been a routine, successful rescue, had defendants merely followed standard industry practices, procedures, and protocols, and SBI's own rules," Allweiss wrote.