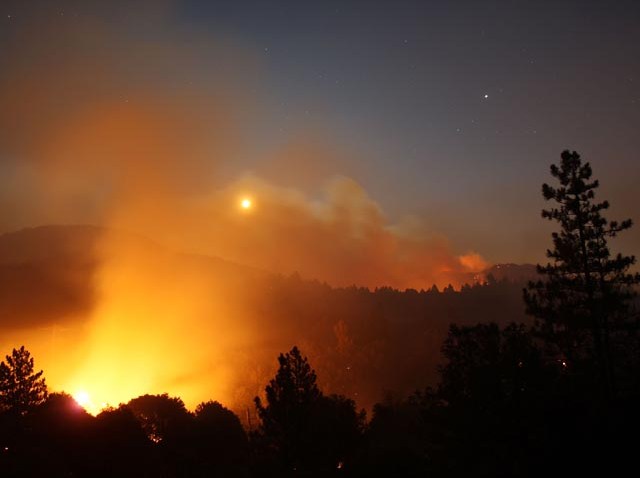 Firefighters put out one of the biggest wildland fires of the season for South Florida Tuesday night, serving as a reminder that the fire season is nearing its height.
Well over 100 acres burned just west of Sweetwater at 147th Avenue and S.W. 27th Street where neighborhoods border undeveloped land. Flames came within 50 feet of three unoccupied homes.
A fire rescue helicopter used a nearby lake to make a water drop about every 60 seconds and Florida Division of Forestry track vehicles that can crush through Melaleuca forests barreled headlong into the smoke to smother the flames.
"This was a serious fire," said Captain Angel Machado of Miami-Dade's Fire Rescue."It was serious not so much because of the size but because of the urban interface."
Captain Machado and his team keep a close eye when the moisture content of the vegetation dries and the warm afternoon winds come during this dry season.
"Then we start getting concerns because any small spark could start or ignite a fire that could get out of control very quickly," said Capt. Machado.
"It's only about a block away," recalled an anxious Isabel Puiatti who lives within sight of the flames. She and her husband are not paralyzed with fear, but they do consider what might happen. "Well, I did tell him 'make sure you have the garden hose on to keep everything wet.' And if it gets that close, yes, I am running," Isabel said with a nervous chuckle.
So prone is this area to wildland fires that another wildland fire took root just a short distance that way, also threatening homes. The 2008 fire was much larger, demanding enormous taxpayer resources.
The fire season should actually be worse but a heavy rainy season has kept ground more moist, and levels at Lake Okeechobee, a true barometer of South Florida water levels, higher than normal.
If you live around trees in a semi-rural area, fire fighters urge homeowners to keep vegetation 35 feet away from your house. And be the eyes and ears of firefighters. As difficult as it is, try to keep gates secure so illegal dumping doesn't get out of control, say experts.
"We have several areas that have been dumped and containing tires and other construction debris," said Capt. Machado, "that adds to the fuel load which causes some problems for our equipment and for our personnel."