Police have arrested a man who they say shot and killed his 21-year-old girlfriend Friday morning outside her family's Miami home.
Officers arrived at the scene near Northwest 38th Avenue and 1st Street shortly after 7:30 a.m. where the victim, 21-year-old Jackisha Bayard, was found shot in the chest and was unresponsive.
She was transported to Jackson Memorial Hospital, where she later died.
Police said that it was a incident between Bayard and her boyfriend, Gregory Brown. Officials say he fired multiple shots at Bayard.
"A family in our city lost a very young soul this morning, and we take these matters extremely seriously," said Miami Police Ofc. Christopher Best.
According to police, Brown called Bayard on her phone, asking her to come outside. When she met him at his car, he opened fire, police said.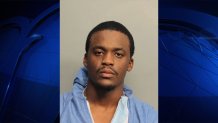 Brown later turned himself in to police, officials said. He is now facing a charge of first-degree murder.