Lauderhill Police are actively investigating an early morning hit-and-run that left one woman dead on Saturday.
The incident occurred at approximately 3:30 a.m. at the 1300 Block of NSR7, according to Lauderhill Police.
The preliminary reports are that the adult female, identified as Gillian Robinson, 53, may have been attempting to cross the roadway when she was struck by a vehicle that fled the scene.
The victim was transported to Broward Health Medical Center where she later died of her injuries, officials said.
Lauderhill traffic homicide investigators have taken Ashlee Shante Washington, 23, into custody after identifying her 2018 red Chevrolet Cruz to be the hit-and-run vehicle.
Investigators located Washington at 767 northwest 70th Street in Miami.
She now faces charges for failure to stop/remain at crash/accident involving death and evidence tampering.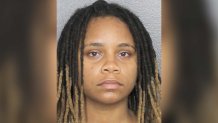 Speed was a factor in this case however it is too early in the investigation to determine how fast the suspect was traveling at the time of impact.
"I'm here every Thursday, Saturday, and Sunday. They do speed over here a lot," bike rider Raymond Najeed said.
Najeed rides his bike on State Road Seven but, he says, never without his bright orange vest.
"Wait 'til all the cars stop and look both ways. That's why I'm wearing this vest," Najeed said.
The deadly crash is another example of why Lauderhill Police launched its new aggressive driving campaign.
Officers will spend an extra three to five hours a day focused on traffic enforcement.
The campaign will also include more electronic message boards throughout the city, speed warning signs, and community outreach.
This case remains open and active anyone with information is asked to contact the Lauderhill Police Department at (954) 497-4700 or Broward County Crime Stoppers at (954) 493-8477.