Letters written by South Florida school kids for the children at the migrant detention facility in Homestead were rejected by the workers running the facility, according to the Miami-Dade teachers union president.
United Teachers of Dade president Karla Hernandez-Mats said she thought getting a letter from the outside was completely harmless and would be an inspiration for the 2,700 youngsters inside the facility. So Miami-Dade students used crayons markers and pens to write them letters but when teachers brought them to the camp, they were rejected by those who are running the facility for the federal government, Hernandez-Mats said.
Hernandez-Mats said students had been asked to write the letters shortly before school ended for the summer for the children at the camp, which became a must-stop destination for Democrats in Miami for last week's debates.
"We had hundreds of letters come in, hundreds of letters from students and they are so pure of heart," she told NBC 6.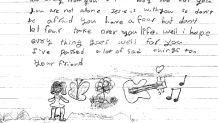 The letters contained drawings and messages like "my heart goes out to you" and "love you, have hope."
"It was really nice messages of children speaking to other children, letting them know like 'we want to give you hope, everything is going to be ok and we are sorry this is happening to you,'" Hernandez-Mats said.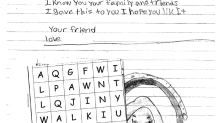 But several weeks ago, when the teachers union went to drop off the letters, Hernandez-Mats said they ran into a brick wall.
"We were trying to deliver them and we were denied, we were denied access. We were not allowed to deliver the letters," she said. "It's just a letter, why can't they even feel that somebody else on the outside cares about them and is just trying to reach out to them and say 'hey, there's hope.'"
NBC 6 reached out to the Department of Health and Human Services, which runs the facility, for comment but hasn't heard back.
For now, the writings are in boxes at the union headquarters near Downtown Miami. Hernandez-Mats said they aren't giving up on getting the letters inside the facility and are working with community groups to make it happen.*
"It is very sad. It shows the disconnect that there is, the lack of humanity in trying to dehumanize these children," Hernandez-Mats said.