A man was arrested Saturday after police say he threw a brick through a window of a home in Miami Beach on Thursday. The brick landed just feet from where a 4-year-old and an infant were sleeping.
The suspect, William Watson, 30, is now facing charges of criminal mischief and deadly missile throw.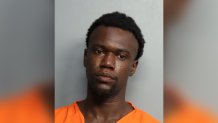 According to police, Watson was seen on CCTV walking south when he suddenly stopped and threw a small brick paver through a window. After a flyer was sent department-wide, an officer identified Watson from previous encounters and probable cause for his arrest was established, according to police.
The scene was also caught on a baby cam in the children's room. The children were not hurt.
"I rushed in, and I saw that there was glass, and I pulled them out of bed," a man NBC 6 is only identifying as Zachary said Friday.
Less than 24 hours later, Miami Beach police arrested Watson, the news Zachary had been waiting for.
"Pretty scary at first but then I just got really angry and we were very hopeful that they could catch this guy," Zachary said Saturday.
He plans to fix the window and says he's grateful his family is safe, after an attack he can't wrap his mind around.
"We've never really seen this person before, so we don't know why."