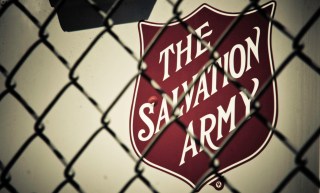 Police officers are donating $1,000 to a Salvation Army in the Bay Area after a theft left the charity scrambling to replace donated toys, clothing and food meant for local families.
The theft on Thursday from a storage container in the parking lot at the Salvation Army Concord Corps Community Center at 3950 Clayton Road affected items that were supposed to be distributed to 14 local families tomorrow. Officials estimated the value of the items at more than $4,000.
Most of the items had been donated by Monte Vista High School in Danville, which worked with the Salvation Army to adopt 48 families this season, Salvation Army officials said.
The Concord Police Association will present a check for $1,000 Tuesday to the Salvation Army, and is challenging the community to match the donation, Major Glen Madsen said.
Community response following the theft has been strong, and the charity now believes it has enough to cover the adopted families. But it still has a shortage of toys for its Toy for Joy program, which allows families to choose toys and grocery staples for the holidays, Madsen said.
The agency expects to provide gifts and food for around 4,000 people in Concord this holiday season and demand for the charity's services remains strong despite improvements in the economy. Many clients are among the working poor who don't show up on the welfare rolls, Madsen said.
"Folks that used to donate to us are now coming to us for help," Madsen said.
Concord police said Tuesday that they are testing a fingerprint found at the scene of the theft but have not identified any suspects or made any arrests.