A San Jose family is grieving the loss of their Chihuahua mix, Sparky, who was brutally bludgeoned to death with a golf club after police say two boys broke into the home in an attempt to burglarize it.
Sgt. Heather Randol said on Wednesday that the boys, ages 13 and 14, were arrested and booked into juvenile hall on residential burglary charges. One boy was also charged with animal cruelty.
"We're devastated," homeowner Eric McKenzie told NBC Bay Area.
Family members found the 12-year-old family pet bleeding to death upstairs shortly after 8 p.m. on Tuesday at their home in the 6800 block of Eldridge Drive. They called police to report that their home had been ransacked, and Sparky had been bludgeoned with a golf club.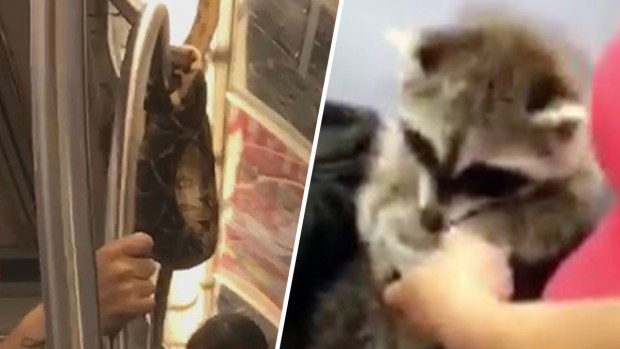 Unbelievable Animals: Raccoon and Snake on NYC Subway
McKenzie said two his family's two other dogs, "Pokie" and "Moxie," were not hurt in the attack. "We were looking around for the third dog," McKenzie said. "My daughter found him upstairs, laying on his side, whimpering, and pretty much unresponsive." They took Sparky to the vet, but it was too late.
Police said they were able to link the Eldridge Drive case with another burglary, reported at 2:30 p.m. in the 7000 block of Burnside Drive. In that case, the boys were there when police showed up, and they were arrested on site, police said. The boys attend Leland High School in San Jose, according to sources familiar with the case.
Detectives later figured out that the boys were allegedly responsible for "several other residential burglaries in the area," Randol said, and officers connected them to Sparky's brutal death. Nothing was taken from the home where Sparky was killed. "What was the purpose?" McKenzie asked. "To have fun? They didn't steal anything. I don't understand."
Tuesday also happened to be National Dog Day, a 24-hour-period when dog lovers across the globe honored their furry best friends, many posting pictures all over social media.
"Without Sparky around, there'll be a hole in the house," McKenzie said. "He was a member of the family. Very sad.