Paul Walker's publicist confirmed to NBC News that the actor best known for starring in "The Fast and the Furious" movie franchise has died after a fiery crash in Valencia, Calif., Saturday afternoon.
He was 40 years old.
"It is with a truly heavy heart that we must confirm that Paul Walker passed away today in a tragic car accident while attending a charity event for his organization Reach Out Worldwide," said a post on the actor's verified Facebook page Saturday evening.
The Facebook post said Walker was the passenger in a friend's vehicle at the time of the crash, but authorities have not confirmed that detail.
Deputies responded to the wreck about 3:30 p.m. in the 28300 block of Rye Canyon Loop, according to the Santa Clarita Valley Sheriff's Station.
A car engulfed in flames was found and extinguished by the Los Angeles County Fire Department. Authorities found two people inside the 2005 Porsche Carrera GT after the fire was put out, officials said.
The two victims were pronounced dead at the scene. Authorities said speed was a factor in the crash, but its cause is still under investigation.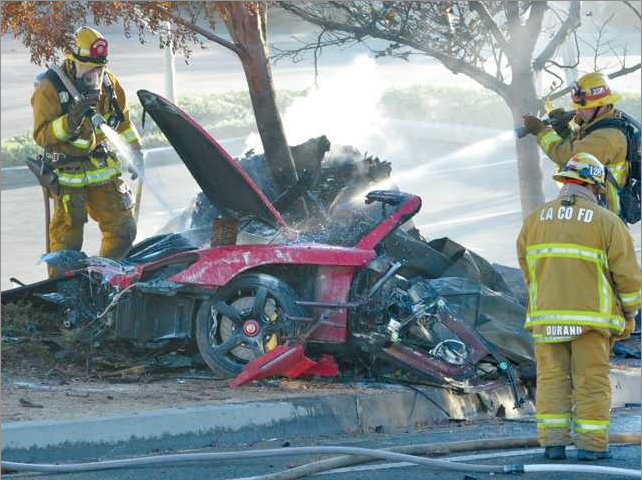 Actor Paul Walker was one of the two people killed in this crash Saturday in Valencia, Calif. (Dan Watson/Santa Clarita Valley Signal)
Los Angeles coroner's said the bodies were burned beyond recognition. Walker was not identified as a victim in the crash as of 10 p.m.
"We smelled the smoke and then we didn't pay much attention to it because of the fact that this street on Friday and Saturday nights, a lot of the guys come up here with their fast cars and drift around this corner here," said Ruben Soto, who says he was nearby at the time of the crash.
Universal Studios released a a statement Saturday evening mourning the loss of Walker.
"All of us at Universal are heartbroken. Paul was truly one of the most beloved and respected members of our studio family for 14 years, and this loss is devastating to us," the statement said.
Fans could be seen gathered outside near the crash site around 11 p.m.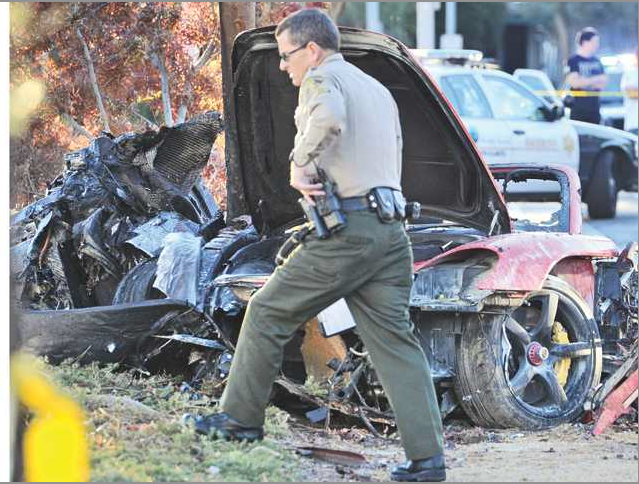 A police officer at the scene of the crash which killed actor Paul Walker (Dan Watson/Santa Clarita Valley Signal)