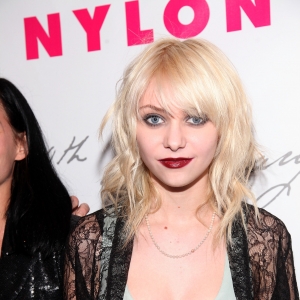 "Gossip Girl" star Taylor Momsen is ready to rock out.
Taylor's band, The Pretty Reckless, will release their first full-length album on Interscope Records this fall, Access Hollywood has confirmed.
VIEW THE PHOTOS: 'Gossip Girl's' Rockin' Style Star Taylor Momsen
In addition, the Taylor-fronted band is currently out on the road opening up for The Veronicas, whose tour kicked off May 9 in Nashville, Tenn.
The 24-date tour wraps up June 30 in Salt Lake City, Utah.
VIEW THE PHOTOS: XOXO! Hot Shots From 'Gossip Girl'
"Taylor has an incredible presence and when she decided to make Interscope her musical home we were thrilled," said Jimmy Iovine, Chairman of Interscope Geffen A&M Records.
Taylor, who stars as the fashion-forward Jenny Humphrey on "Gossip Girl," not only is the lead singer for The Pretty Reckless, but she also co-wrote all of the songs on the new album.
"I'm so excited to be among the talented and respected artists signed to Interscope Records," Taylor,1 5, said in a statement. "Partnering with Jimmy Iovine is an honor."
VIEW THE PHOTOS: Hollywood Blondes
In a previous interview with AccessHollywood.com, Taylor talked about the bands she enjoys listening to in her down time.
"I have an eclectic taste. One of my favorite bands is Garbage. I love Paramore. I love Avril Lavigne – and I still love Britney Spears. I love dancing to her stuff," she said in 2008.
But Taylor isn't the only "Gossip" girl who is making a leap into the music business.
As previously reported on AccessHollywood.com, Leighton Meester signed a record deal with Universal Republic through Time-Act Music last month.
Leighton's album is slated to drop in the fall.
Related Content from AccessHollywood.com:
PLAY IT NOW: Behind The Scenes: 'Gossip Girl: Valley Girls'
PLAY IT NOW: Taylor Momsen Talks 'Gossip Girl' (March 2009)

MORE ACCESS ON THESE TOPICS: Gossip Girl - Taylor Momsen - Leighton Meester - Music - Rock

Copyright NBCAH - Access Hollywood