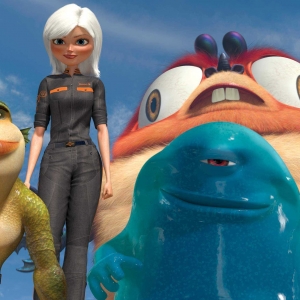 Movie beasts from old-time Hollywood have gotten a makeover as box-office heroes.

The animated action comedy "Monsters vs. Aliens" has launched itself into the No. 1 spot with a $58.2 million debut weekend.

The movie features creatures from 1950s flicks in a showdown with invading extraterrestrials.

Opening in second-place is the ghost story "The Haunting in Connecticut" with $23 million in ticket sales.

At No. 3 is the apocalyptic action tale "Knowing" with $14.7 million, slipping from its first-place debut a week earlier. "Knowing" raises its 10-day total to $46.2 million.

Related Content from AccessHollywood.com:
VIEW THE PHOTOS: Brad Pitt Filmography

MORE ACCESS ON THESE TOPICS: Movies - Box Office - Celebrities

Copyright NBCAH - Access Hollywood