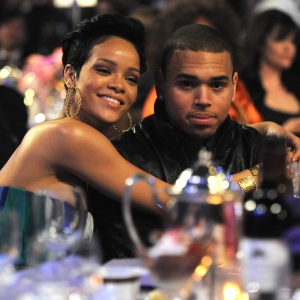 Chris Brown's former stepfather, Donnelle Hawkins, spoke exclusively to Access Hollywood for the first time since Brown was arrested for criminal threats in connection with an alleged violent incident with a woman reported to be the singer's girlfriend Rihanna on Sunday morning.
"[Chris] has to take responsibility for his own actions," Hawkins told Access.

When asked if he believed reports about the alleged incident involving Brown were true, Hawkins said, "I wouldn't be surprised."

After Brown's parents divorced, his mother re-married and Hawkins became Brown's stepfather.
VIEW THE PHOTOS: Rihanna: Music's Style Superstar
In a 2007 interview with GIANT magazine, Brown spoke about a time when he was 11 and he told his mother that he would go to jail for killing his allegedly abusive stepfather.

"He used to hit my mom… He made me terrified all the time," Brown claimed during the interview with GIANT magazine. "I remember one night he made her nose bleed. I was crying and thinking, 'I'm just gonna go crazy on him one day…' I hate him to this day."

"There was a lot of arguing between his mom and I. I never raised a hand at his mom," Hawkins said in response. "We (Brown's mother and I) argued frequently… As far as physical abuse there was no physical abuse."

VIEW THE PHOTOS: Hollywood Hottest Couples!
Hawkins added, "I spanked Chris one time."

"I became the bad guy. Chris was really mad at his mom for leaving his dad, so I became the scapegoat," Hawkins continued. "No matter how much I tried to be a father figure nothing worked."
Related Content from AccessHollywood.com:
PLAY IT NOW: AUDIO: Kanye West Talks Chris Brown Arrest On KIIS FM With Ryan Seacrest
PLAY IT NOW: Chris Brown Arrested On Felony Charges (Feb. 9, 2009)

MORE ACCESS ON THESE TOPICS: Chris Brown - Music - Rihanna

Copyright NBCAH - Access Hollywood