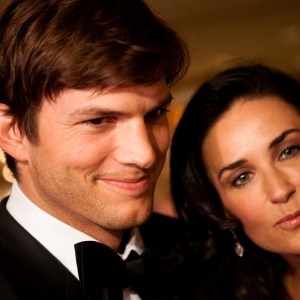 Twitter power couple Ashton Kutcher and Demi Moore are using their popularity on their micro-blogging Web site for a good cause.
The pair has been calling for their Twitter followers to make personal videos to fight against U.S. hunger and send them to the stars to create a viral video for a new campaign for Feeding America.
VIEW THE PHOTOS: Ashton Kutcher & Demi Moore
"End hunger vid looks gr8. need 1 thing; webcam vids of U all say'n things like "No one should go hungry!" send 2 EndUsHunger@gmail.com," Demi Tweeted on Friday. "Together we can change the world-we R creating a message, a movement by the people 4 the people!"
On his Twitter page, Ashton wrote that they wanted to raise awareness — and then expand.
VIEW THE PHOTOS: Stars Who Twitter
"if ppl arnt aware of a problem they cnt fix it. we've also procured 10million dollars worth of food 2 distribute through ths effort," he wrote, adding, "we are starting at home US then we will branch out."
Ashton, Twitter's most popular user, reached a second milestone on the social networking site recently — its first user to cross 1 million followers, he is now the only Twitterer with 2 million.
Related Content from AccessHollywood.com:
VIEW THE PHOTOS: Celebs Who Give Back
PLAY IT NOW: T.G.I.F. - Lance Armstrong's Newborn Tweets? (June 5, 2009)
PLAY IT NOW: Stars Shine At The White House Correspondents' Dinner (May 11, 2009)

MORE ACCESS ON THESE TOPICS: Ashton Kutcher - Demi Moore - Couples - Twitter - Charities

Copyright NBCAH - Access Hollywood