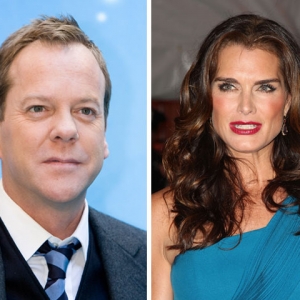 The events surrounding Kiefer Sutherland's alleged head butting of designer Jack McCullough in the presence of Brooke Shields at an afterparty following the Met's Costume Institute Gala last week continue to unfold.

On Monday, Shields' lawyer, Gerald Lefcourt, released a statement to Access Hollywood saying, "A number of statements have been attributed to Ms. Shields in the media that are neither true nor authorized. These statements were obviously made by those who were not in attendance at the party and constitute their version of events. While at the party she was bumped into by Jack McCollough and Kiefer Sutherland became concerned."

VIEW THE PHOTOS: Brooke Shields
Adding, "Both Jack and Kiefer are friends of Ms. Shields and she regrets this unfortunate situation."

A lawyer for Sutherland, Michael C. Miller, also released a statement to Access about the alleged incident on Monday.

VIEW THE PHOTOS: Kiefer Sutherland
"We are troubled by the untruthful and self-serving information circulating regarding Kiefer Sutherland and events of last Monday evening," the statement said. "We are confident, however, that the investigation being conducted by the Manhattan District Attorney's Office and the NYPD will confirm that Kiefer Sutherland was neither the instigator nor a wrongdoer in this incident. Out of respect for this law enforcement process, Kiefer Sutherland will not be making any comment."

Following the incident, a rep for the Shields told TMZ, "nothing happened to her… Jack did nothing inappropriate. It's not clear what caused Kiefer to do what he did."

As previously reported on Access Hollywood.com, McCullough "suffered multiple fractures to his nose" from Sutherland's alleged headbutt, McCullough's rep told Access on Friday.

VIEW THE PHOTOS: The Stars, The Fashion, The Models & More At The Met's 2009 Costume Institute Gala
"24" star Sutherland was charged on Thursday with misdemeanor assault following the alleged late-night altercation.
Related Content from AccessHollywood.com:
PLAY IT NOW: T.G.I.F. - Did Kiefer Sutherland Turn Himself In To Authorities? (May 8, 2009)
PLAY IT NOW: Madonna, Justin & More At 2009 Met Costume Institute Gala

MORE ACCESS ON THESE TOPICS: Brooke Shields - Kiefer Sutherland - Celebrities - News

Copyright NBCAH - Access Hollywood