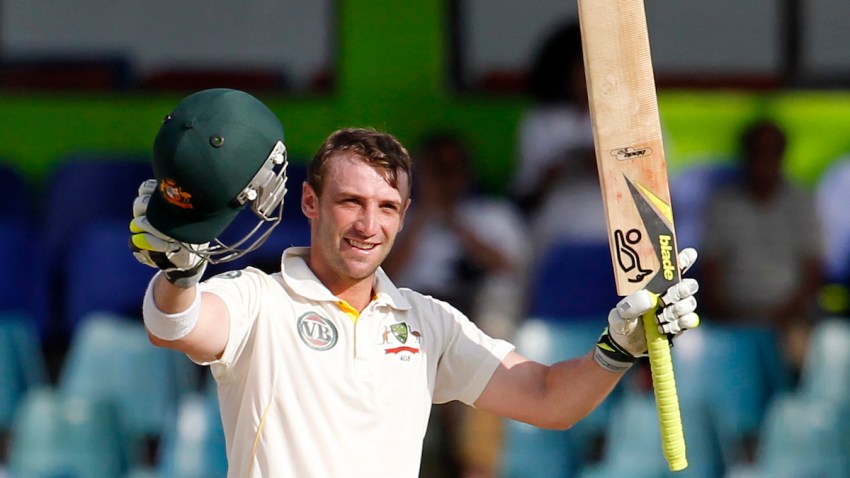 Australian batsman Phillip Hughes died in a Sydney hospital on Thursday, two days after being struck on the head by a cricket ball during a domestic first-class match. He was 25.
Australia captain Michael Clarke read a brief statement on behalf of Hughes' parents, brother and sister at a packed news conference at St. Vincent's Hospital that was broadcast live around Australia.
"We're devastated by the loss of our much-loved son and brother Phillip. Cricket was Phillip's life, and we as a family shared that love of the game with him .... We love you," Clarke read, holding back tears before leaving the room.
Cricket Australia chief executive James Sutherland said Hughes was immensely talented and dearly loved: "Without doubt, he was a rising star whose best cricket was still ahead of him."
"The word tragedy gets used too often in sport, but this freak accident is real life tragedy," Sutherland said. "Just days short of his 26th birthday, Phillip has been taken away from us too soon.
"In these darkest hours, cricket puts its collective arms around the Hughes family."
Australian team doctor Peter Brukner announced the death earlier Thursday in a statement, saying Hughes never regained consciousness. The statement was issued shortly after Australian opener David Warner, one of the first players to help Hughes when he collapsed on the field, had left the hospital in tears,
Hughes' mother and sister were at the match when he was he was hurt, and kept vigil at the hospital. Clarke, a close friend, was among dozens of former and current teammates and stars of the game who visited the hospital to offer their support.
The death — from a cerebral hemorrhage, or bleeding on the brain — shocked and saddened people across Australia and cricket fans all over the world, and cast doubt over the first test between Australia and India due to be played in Brisbane next week.
Prime Minister Tony Abbott described Hughes as a "young man living out his dream," adding "It's a very sad day for cricket and a heartbreaking day for his family."
"For a young life to be cut short playing our national game seems a shocking aberration," he said.
Messages of support poured in from all around the world after Hughes stumbled, leaned over and then collapsed after being hit behind the left ear when he mis-timed a shot to a short-pitch delivery while batting for South Australia against New South Wales in a Sheffield Shield match. He underwent emergency surgery at nearby St. Vincent's Hospital to relieve pressure on the brain and remained in a critical condition in an induced coma.
Deaths are rare in cricket, although Hughes is the second player in two years to sustain a fatal blow.
Darryn Randall, who was 32 and a former first-class player in South Africa, was killed after being struck on the side of the head during a Border Cricket Board Premier League match in the Eastern Cape last year.
In 1998, former India test player Raman Lamba died after being struck on the head while fielding during a domestic match in Bangladesh. Nottinghamshire's George Summers died after being hit on the head while batting at Lord's in 1870, and Abdul Aziz died after he was hit over the heart in a 1959 Pakistan first-class match.
Images of Hughes collapsing face first at the SCG were broadcast almost instantly across Australia on Tuesday, when satellite TV trucks and dozens of news crews started reporting regular updates on his condition from outside the hospital.
Hughes played 26 test matches for Australia after making his debut 2009, but despite a sparkling start to his international career at the age of 19, he was not able to earn a regular spot in the starting lineup.
After making an assured 75 in his first test innings against South Africa at Johannesburg, he posted centuries in each innings of his second test, becoming the youngest player ever to do that in test cricket. But he struggled on the subsequent tour of England and was in and out of the Australian team four more times. He was on the verge of another test recall, with an assured 63, when he was fatally struck.
He also played 25 limited-overs internationals for Australia and more than 114 first-class matches in a career starting in 2007.
The injury sparked debate about short-pitch bowling in the game, the level of protection offered by helmets that first came into common use at the test level in the late 1970s, and the seemingly slow reaction time of the ambulance service as Hughes was treated on the field.
Bouncers, where a fast bowler aims to push the batsman back toward the stumps with a ball that lands halfway down the pitch and rears up above chest or head height, are still a regular and acceptable part of the game.
The International Cricket Council revised its laws on short-pitch bowling in the early 1990s, putting restrictions on the number of short-pitch balls allowed per over to stamp out bowlers merely using the delivery to intimidate batsmen.
Hughes was wearing a helmet when he attempted to hook a short-pitch ball from New South Wales fast bowler Sean Abbott, but was hit on an unprotected area at the back of his head with the hard, leather ball, bursting an artery and causing a massive bleed.
Copyright AP - Associated Press