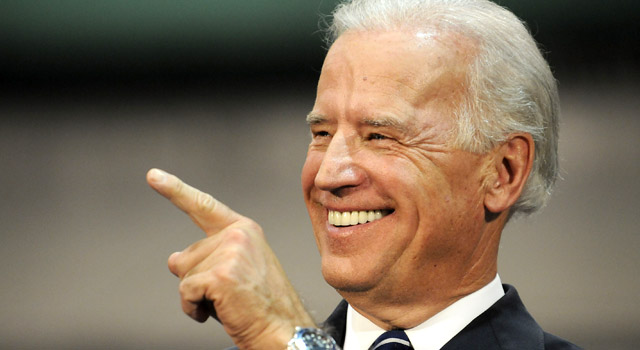 Vice President Joe Biden proves in post-gaffe times, for him anyway, there really is no place like home.
That's where he was Monday, spending time in one of the places he cautioned the rest of the country to avoid in his swine flu snafu -- a train station. He then headed into the swine flu capital of the First State, the University of Delaware. The Vice President visited the university to talk about wind energy.
It almost makes you wonder if someone back at the White House is having a good laugh.
But for Biden, it was like clicking his political heels three times and poof, in came the love-fest during his first stop at the Wilmington Amtrak station.
"It's always nice to be home, but this is a special day," Biden said as he helped kick off the depot's renovation. The work was sped up by federal stimulus dollars and the V.P. took credit. Biden boasted he made one thing perfectly clear to the Obama administration about the recovery package, that the place to start had to be "rail, rail, rail, rail."
Biden has commuted out of the Wilmington station for his entire political career, which he tallies at about 7,000 train trips.
"The longest stretch I've ever gone in my adult life, 38 years, without being on an Amtrak train has been the last three weeks," Biden said. He talked about how people who worked there, including conductors and a Ticket Agent named Adrian, had become some of his long-term friends and how the project is about a better environment and a better economy, "It's about jobs, jobs, jobs, jobs…mostly union jobs, a job you can live a middle class life on. Ladies and gentlemen this is the single best investment for my children and grandchildren in transportation that I could possibly make."
Biden heads to Newark in the afternoon and joins Interior Secretary Ken Salazar at the University of Delaware to talk about sustainable energy. Last year, Delaware authorized the creation of a wind farm off its shore, the first of its kind in the U.S., according to the News Journal.
Biden's Amtrak tour was probably inspired by the uproar he caused last Thursday when he let us all in on how he'd been counseling his family about the swine flu.
"I would tell members of my family, and I have, I wouldn't go anywhere in confined places now. It's not that it's going to Mexico, it's you're in a confined aircraft when one person sneezes it goes all the way through the aircraft. That's me. I would not be, at this point, if they had another way of transportation suggesting they ride the subway," Biden told Matt Lauer during a "Today" show interview.
"I wouldn't go anywhere in confined places now."
The damage control was almost instantaneous, with White House press secretary Robert Gibbs apologizing for Biden's remarks, and trying to explain what the vice president meant to say.