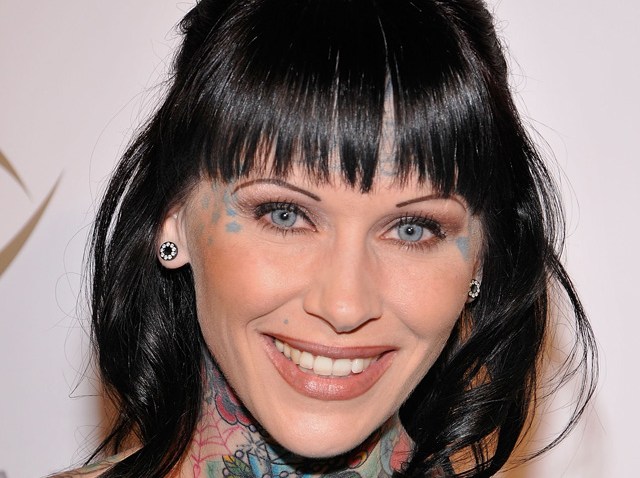 Michelle "Bombshell" McGee had a bombshell of her own for Jesse James on Tuesday's "Wendy Williams Show," when she slammed the "Monster Garage" star's between the sheets moves.
When Wendy "went there," asking the tattooed woman about sex with Jesse, Michelle rated his performance.
VIEW THE PHOTOS: Overnight Celebrities: From Unknown To Household Name
"It was average," she told the talk show host with a smile.
Bombshell went from under the radar tattoo model to tabloid fixture in early 2010, after a magazine revealed she had an affair with Jesse, who at the time was married to Sandra Bullock.
VIEW THE PHOTOS: Jesse James' Lost Dog Reunion!
Like she did a little less than a year ago, Michelle insisted during her appearance on "Wendy Williams," that Jesse told her his relationship with Sandra was over when the two met up for sexual relations.
"Never wore a wedding ring, never had pictures of her up. Nothing," Bombshell told Wendy.
She noted that she did ask the "Monster Garage" star about his then-marriage to Sandra.
VIEW THE PHOTOS: Divorce! Break-Ups! Hollywood's Most Famous Former Couples
"He said, 'Listen, it's something we can't talk about; we're not together; we're separated. She lives in Austin, I live here. We have to do this for the press. We have to pretend we're married 'cause it can't come out right now. That's the end of it, we're not gonna talk about it any more.'" Bombshell recounted.
While Bombshell was spilling secrets of her relationship with Jesse on Wendy's show, Jesse was exchanging love Tweets with his new fiancée, Kat Von D.
VIEW THE PHOTOS: They Dated? Surprising Former Couples!
"just so you know, you're impressing the hell outta me…" Kat Tweeted on Tuesday afternoon to Jesse.
"Cinnabun is keeping your spot warm," Jesse Tweeted back to Kat, referring to his dog.
Copyright 2011 by NBC Universal, Inc. All rights reserved.
This material may not be published, broadcast, rewritten or redistributed.
Related Content from AccessHollywood.com:
PLAY IT NOW: Kat Von D Repeatedly Dodges Paparazzo's Questions About Her Engagement To Jesse James
PLAY IT NOW: Hollywood Radar: January 26, 2011
More from Access: [ Jesse James Kat Von D Reality TV ]
Copyright NBCAH - Access Hollywood