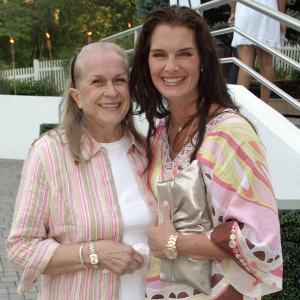 Brooke Shields' mother, Teri, was reportedly checked out of her nursing home on Thursday by National Enquirer journalists looking for a "tabloid story," the star claimed to People.
Teri, 75, has dementia and was reportedly found next door at a restaurant in Old Tappan, New Jersey, later that day talking to a reporter.
VIEW THE PHOTOS: Brooke Shields
"I intend to take every lawful action against all who were involved or who authorized this despicable act," Brooke said in a statement to People.
"For her safety, she has temporarily been in a senior living facility, a very difficult decision for me," the star continued. "Late Thursday afternoon, I was alerted by Old Tappan Police that my mother had been signed out of the facility by two reporters of the National Enquirer … who falsely claimed they were friends of hers."
VIEW THE PHOTOS: Celebs & Their Moms
Brooke went on to call the alleged actions "reprehensible and disgusting," claiming that "they then drove my 75-year-old mother around looking for a tabloid story. As anyone who has a parent who suffers from dementia or Alzheimer's, it is one of the most difficult experiences you can go through as a son or daughter."
Old Tappan Police Department Captain Thomas Shine told the mag that Teri "wasn't harmed in any way shape or form" when they found her at the restaurant with what he calls "some form of journalist, I think a freelance journalist."
Officers were called to the nursing home at 3 PM on Thursday after Teri had been checked out, he added.
VIEW THE PHOTOS: The Sexy Ladies Of Primetime
"It was more along the lines that she had been allowed to leave, based upon their protocol or policy," he said.
The journalist "did sign her out and was allowed to leave by personnel," he continued, adding that "the part we're investigating here is who allowed her to leave the facility. It appears that there were some permissions that were given for Mrs. Shields by the family, be they written, be they verbal – we're investigating – to allow her visitation for a variety of different reasons."
Reportedly, no charges have been filed as of yet.
Spokespersons for the National Enquirer and the Old Tappan police did not immediately return inquiries when contacted by Access Hollywood.
Related Content from AccessHollywood.com:
PLAY IT NOW: How Did Brooke Shields Save Robert Pattinson?
PLAY IT NOW: Brooke Shields' Baby Book

MORE ACCESS ON THESE TOPICS: Brooke Shields - Parenthood - Celebrities - Crime

Copyright NBCAH - Access Hollywood