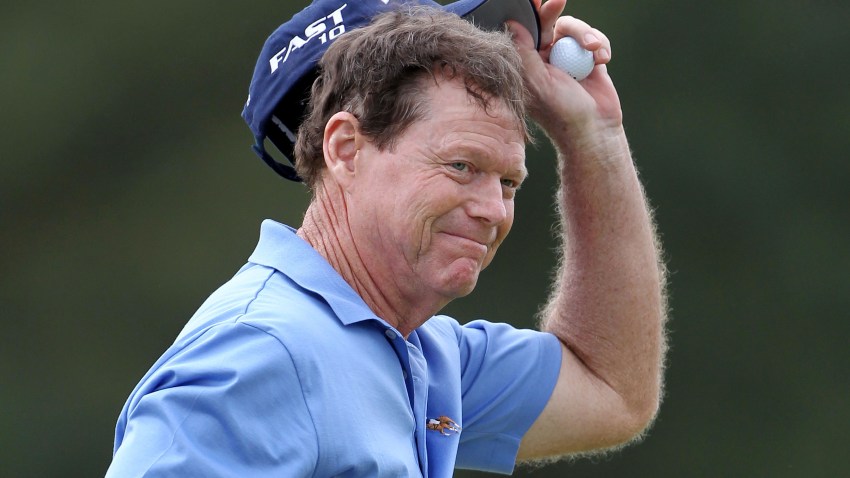 The Masters doesn't need Tiger Woods to throw up some great storylines. But it helps if he's around to make us notice them.
I don't know how many more people tuned in this year because it is Tiger's return to competitive golf, but it's got to be a big number. He's good for golf ratings the same way the Red Sox and Yankees are good for baseball ratings.
But it's like going to an art museum to see a special Picasso exhibit. You can go to see just that, or you can look around a little and notice that there are a bunch of amazing Rembrandts,Van Goghs and other masterworks there, too.
We've got that kind of situation at the Masters. People are tuning in to see Tiger. Meanwhile, there are a whole lot of other masterpieces on display.
The leaderboard after Day 1 is simply amazing. For a time on Thursday, Old Tom Watson held the lead by himself after shooting a 5-under round of 67.
Watson is 60 years old. This is ancient for a golfer or any other athlete. People his age simply don't do things like shoot 67 at Augusta National. The course is longer than "War and Peace." The greens are faster than thought. It was considered a miracle with Jack Nicklaus, the greatest golfer ever, won it in 1986 at the age of 46.
Yet, here's Watson just a few years away from Social Security and on top of the leaderboard. And this less than a year after he came within one swing of winning the British Open.
Up there with him is the perennially popular Phil Mickelson, who played a spectacular round. Also tied for the lead was Lee Westwood, a popular Brit looking for a breakthrough major victory. And knocking on the door was 50-year-old Fred Couples, his swing as syrupy as his demeanor.
Any one of these players would make a great lead story for the first day of any Masters. And yet, every one of them took a seat well behind the man everyone came to see, Tiger.
You have to think that's a good thing for everyone, especially this early in the tournament. People made a bit of a fuss over Watson, especially, and Mickelson and Couples were greeted warmly. But they didn't get the saturation treatment that they'd get in a normal year, when there were no side stories going on.
But this year, Tiger is playing his first tournament since Thanksgiving, when his wife found out he hadn't been entirely faithful to her. Regardless of whether you think of him as the Spawn of Satan or a garden-variety philanderer whose foibles are nobody's business, his return is the biggest news the sport has seen in a long time.
And this takes pressure off everyone but him. With the crowds and the cameras focused on Tiger, Watson, Mickelson, Couples, Westwood and everybody else could just play golf. They did that in spectacular style.
They won't all stay atop the leaderboard. It's difficult to believe — or even hope — that Old Tom can maintain his brilliant pace for four days. It would be beyond wonderful if he did. Few are better liked and respected, there aren't many nicer guys, and no one makes people feel better when he plays well than Watson.
But it's not hard to imagine that come Sunday, there will still be some great stories to be resolved on the final day of the year's first major. By then, we won't even need Tiger to make this a magical Masters. All we'll need is Mickelson or Couples or Westwood or even a bold kid like Anthony Kim, who's just one stroke back. Put a couple from that group on top the leaderboard, and life will be just fine.
Stories make tournaments, and this one has more than enough cooking to make the 2010 Master a major that matters. And if Tiger obliges and manages to stay among the leaders, it could be one of the most memorable majors ever.
Copyright MSNBC - MSNBC