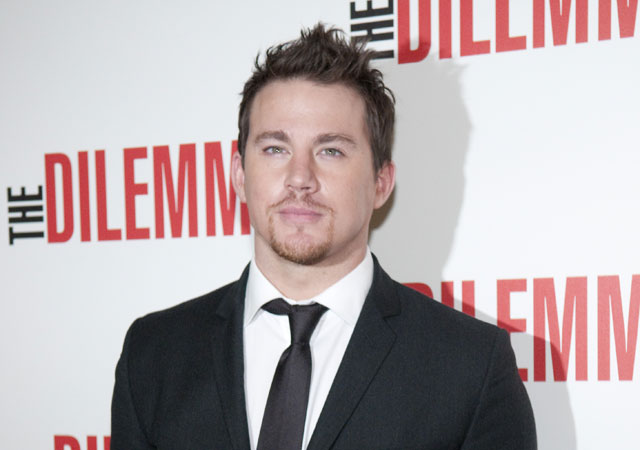 When Channing Tatum sidles up to a table at the Beverly Hilton Hotel to discuss his new film, "The Eagle," an adaptation of the 1954 historical adventure, "The Eagle of the Ninth," there's only the faintest glimmer of studly street rat persona that first caught Hollywood's attention in films like "Step Up" and "A Guide to Recognizing Your Saints."
Wearing a crisp black button down dress shirt and well fitted slacks, Tatum sports a bit more weight than he did as Marcus Aquila, a Roman soldier in 140 A.D. searching to discover the truth surrounding the disappearance of his father's legion in the north of Britain, but that gravitas isn't just physical. Tossing out references to film performance in "the first quarter" and explaining complex marketing strategies, Tatum's business savvy is as prominently on display as his body while sporting a period-appropriate loin cloth.
In 2011, Tatum has four films scheduled to open - none of which is as important to him as "21 Jump Street." This adaptation of the cult TV series sees Tatum in the role of star and executive producer for the first time. He confirmed to Popcorn Biz begins that "Jump Street" begins shooting "in March or April" and could feature a cameo by original series star Johnny Depp. "I think he'd like to bring some closure to that character," Tatum shrugs.
The actor, who recently founded his production company, 33 and Out, which backed the low-budget ensemble piece, "Ten Year," admits he doesn't have much of a career strategy, simply a desire to make great films, but he does have very clear criteria for picking his projects. "Either you read a story that you love, it's a filmmaker you want to work with or it's character you have to play," he explains. "They're all important but, for me, it's always filmmaker and then character. If you don't have a great filmmaker, you will not have a great film. The film is a direct mirror of the director."
Making "The Eagle," Tatum had the chance to live out a childhood fantasy ("'Braveheart' and 'Gladiator' are two of favorite movies of all time," he gushes, "Those are my 'Star Wars'! ") and work with Oscar-winning documentarian-turned-narrative filmmaker, Kevin MacDonald ("One Day in September," "Touching the Void," "Last King of Scotland"). "You'll see Kevin all over this film!" Tatum says proudly. "It's so smart and tasteful. [Kevin's] a scientist."
With three more films on his slate, a possible sequel to "G.I. Joe" ("From what I've heard, there's a script, but I haven't read it. They keep everything pretty close to the chest with those big movies") and a rumored cameo is the fourth "Step Up" film ("Ha! I'm not opposed. But they would have to come with a pretty hefty number," he laughs), Tatum admits that a break might be in his future.
"I do want to take some time, try to re-invent, get better, and maybe get behind the camera a little more," he says. "The Eagle" opens February 11.