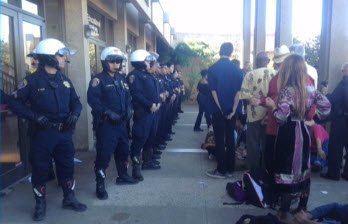 The City of San Francisco and City College of San Francisco were hit by civil rights lawsuits filed in federal court on Tuesday.
A pair of students, 21-year old Otto Pippenger and 22-year old Dimitrios Philliou, said they were victims of excessive force applied by campus and city cops during a March 13 protest at the school, according to the San Francisco Chronicle.
Pippenger claims that a cop broke his wrists, and Philliou claims injuries from a body-slam and unnecessary pepper-spraying, the newspaper reported.
City and campus officials did not comment.
The pair were part of a demonstration that sought to keep the school open, following a decision by its accreditor to remove the school's accreditation.
Copyright FREEL - NBC Local Media