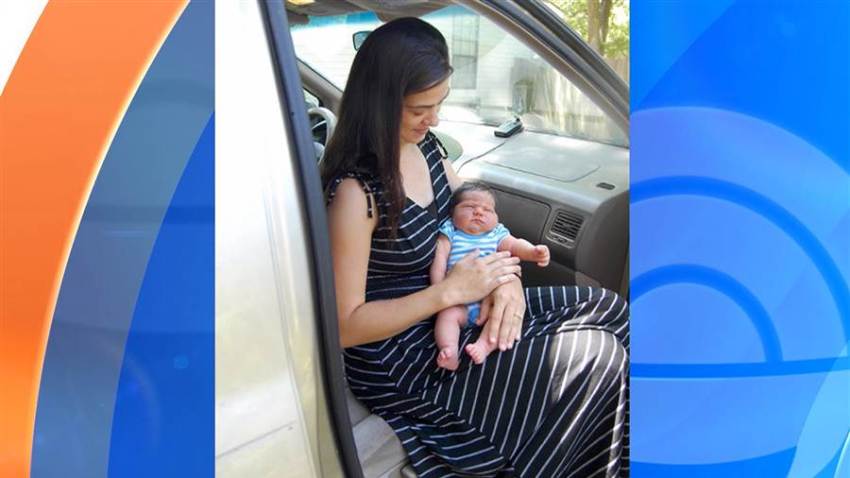 A viral YouTube video shows a Houston-area man filming his wife giving birth to their 10-pound baby son next to him as he drives through traffic in an unsuccessful effort to reach a birthing center in time.
Jonathan and Lesia Pettijohn were stuck in traffic for more than an hour this week when her water broke, forcing her to self-deliver their newborn son, Josiah.
"It was difficult for me to stay calm. It definitely helped that [Jon] was calm," Lesia told "Today" Sunday. "I was pretty much freaking out. I was not wanting to have him [in the car]."
Jonathan Pettijohn told KHOU-TV in Houston that they didn't pull over because there was no apparent danger to his wife or the baby.
The roughly four-minute video shows him calmly instructing his wife while she screams, "It's coming out! It's coming out!"
After the birth, he says, "We did it! High-five, babe!"
Birthing center staffers were surprised to find Josiah already in hand when the couple arrived.
The couple told "Today" that they recorded the video because they didn't have any recordings of the birth of their two older girls.
As of Sunday morning, a YouTube video of the event had close to 5 million views.
"There are all sorts of reactions. You've got people praising us, people trash talking and all sorts of things," Jon said of the reactions people have had to the video. "We're just happy we've got a son. We really don't care what people on the Internet say."
Copyright AP - Associated Press