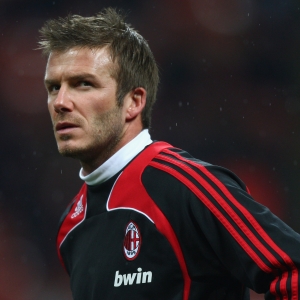 David Beckham will be returning to the LA Galaxy when his stint with AC Milan ends, The Associated Press reported.
The soccer superstar had wanted to stay with the Italian team after his two-month loan finished, but Tim Leiweke, president of Galaxy owners AEG, said they didn't receive the right offer by a commissioner-mandated Friday deadline.
VIEW THE PHOTOS: The Beckhams — Posh & Becks!
"We didn't receive an offer today. We will abide by the commissioner's wishes, so we are clear at this point that we don't want to have any further conversations," he told the AP.
David is expected to return to the Galaxy for training camp beginning March 9. The midfielder has a five-year contract with the club.
VIEW THE PHOTOS: Love Connection: Celebs & Athletes
"I know David is emotionally invested, but I don't think Milan really was that interested in spending the money we would have had to receive to compensate us for our losses," Leiweke said. "We need David to honor the contract and come home and let's stop the distraction."
The Galaxy has performed poorly since the much-hyped arrival of the British star. In 2008, their 8-13-9 record tied for worst in the league.
"We look forward to seeing David back in camp," Leiweke said. "We need to have a good season and we need to live up to a higher expectation."
Related Content from AccessHollywood.com:
VIEW THE PHOTOS: David Beckham
PLAY IT NOW: Battling Scents: Posh & Becks Vs. J. Lo
PLAY IT NOW: David Beckham Hits The NBA Finals (June 15, 2008)

MORE ACCESS ON THESE TOPICS: David Beckham - Athletes - Celebrities

Copyright NBCAH - Access Hollywood