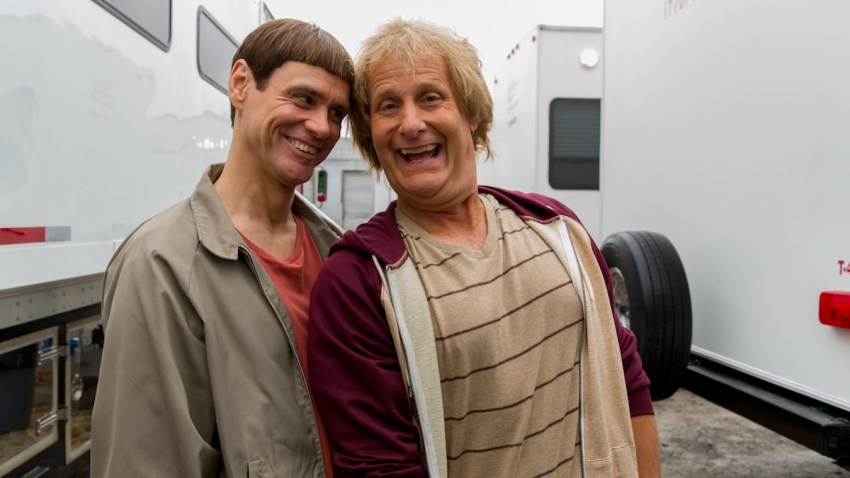 "We're Back!!!"
Jeff Daniels' tweet pretty much says it all. Not to mention, of course, this new photo taken on the set during the first day of shooting on Tuesday of "Dumb and Dumber To," the highly anticipated sequel to the Farrelly Brothers' 1994 hit "Dumb & Dumber."
The comedy reunites Daniels with Jim Carrey and, from the looks of it, the pair had no trouble getting back into their respective roles of Harry and Lloyd, 19 years later.
NEWS: Jim Carrey releasing first children's book
Cameras are rolling on the film just two short days after Daniels won a Best Actor Emmy for his work in "The Newsroom" at the 65th Annual Primetime Emmy Awards.
"We're going to party 'til dawn and then I'm going to get on a plane and go to Atlanta and start shooting 'Dumb and Dumber To,'" Daniels told reporters backstage on Sunday following his victory. "The intellectual free-fall from [Will] MacAvoy to Harry Dunn, imagine if you will."
"Dumb and Dumber To" is slated to hit theaters sometime in 2014.
PHOTOS: Here are some other movies we're excited about
We're Back!!! #DumbTo pic.twitter.com/u2u42yM2hk — Jeff Daniels (@Jeff_Daniels) September 24, 2013
Copyright E! Online