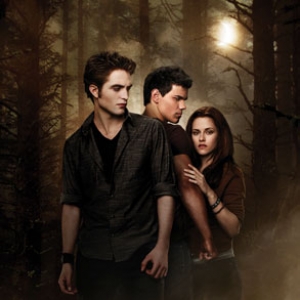 "Twilight's" Edward and Bella are back – but there's a menacing young werewolf keeping them apart.

Fans won't get their first peek at "New Moon" until the 2009 MTV Movie Awards on May 31, but on Tuesday, Summit Entertainment reportedly released the first poster for the highly anticipated next chapter in the vampire series.

VIEW THE PHOTOS: Robert Pattinson- Hollywood's Hottest Vampire!
The poster features series stars Robert Pattinson, Kristen Stewart and Taylor Lautner, who are seen in a mysterious dark forest engaged in a power struggle – surely foreshadowing to the vampire-werewolf showdown that fans have been longing to see unfold on the big screen.

In April, "New Moon" cast member Alex Meraz, who plays the werewolf pack's Paul, told Access Hollywood fans will not be disappointed when they finally see "Twilight's" werewolves come to life.

VIEW THE PHOTOS: 'Twilight's' 'New Moon' Cast - Who's In The Mix?
"I filmed the transformation scene, which I'm gonna say right now… it's something else," he told Access. "It's going to be something to look forward to, for sure!"

In more "Twilight" news, Robert Pattinson showed up at the Cannes Film Festival on Tuesday looking good in a black polo, matching black trousers and rocking his trademark-tousled hair. Next up, the actor is expected to travel to Italy to continue filming.

"New Moon" is due in theaters on November 20, 2009.
Related Content from AccessHollywood.com:
VIEW THE PHOTOS: 'Twilight' Stars' Off Screen Hook Ups
PLAY IT NOW: Nikki Reed Talks 'New Moon' & 'Eclipse' (May 14, 2009)
PLAY IT NOW: Dish Of Salt: Peter Facinelli Talks 'New Moon' (May 11, 2009)

MORE ACCESS ON THESE TOPICS: Twilight - Robert Pattinson - Taylor Lautner - Kristen Stewart - Cannes Film Festival

Copyright NBCAH - Access Hollywood