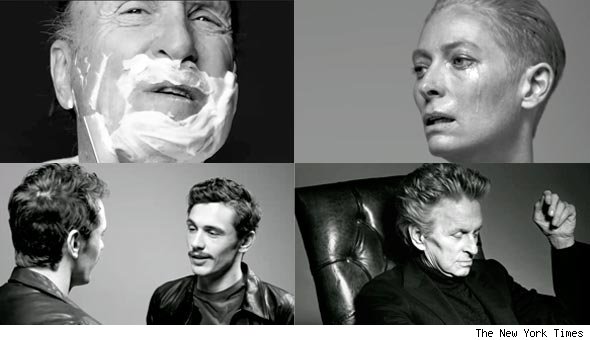 For many movie goers, seeing their favorite actors on-screen in a finished film is a thrill. But there always remains a desire to understand the process, the way in which an actor takes an abstract idea and turns it into a concrete, recognizable emotion. Since most people aren't privy to watching rehearsals on Hollywood sound stages, that piece of the picture remains tantalizingly out of sight. But in an innovative new series of video clips, a collection of the world's most famous actors pull back the veil and let the public see the genesis of their art.

For the New York Times Magazine's year-end issue, stars such as Matt Damon, Robert Duvall, and Tilda Swinton appear in a series of one-minute video clips that show them practicing their craft in its most basic form, reports PopEater.

The series, entitled Fourteen Actors Acting: A Video Gallery of Classic Screen Types, is shot in black and white and features each actor alone and set against a stark back drop, accompanied only by a classical score provided by the Czech Symphony Strings.

The animating idea behind the project is, according to the Times, to "portray not only the art, but also the joy and vigor of performance."

The actors don't speak throughout their clips, so the music is left to provide the contextual background.

"Music can steer what people see in a picture," said Kathy Ryan, the magazine's photo editor, in an interview with the Times' photo blog, Lens. "It can drastically re-chart the direction the picture was taking the person. A lively scene can turn menacing in just a few beats. And a visually suspenseful image can be made comical by just one chord."

The web videos and the photos that will run with the piece in the magazine were shot by Solve Sundsbo, a high-fashion photographer who has done work for Chanel and Dolce & Gabbana.

"You're going from making iconic images to creating narratives," he said of the project. "But there is less of a narrative capacity in 60 seconds, so you need to create something like a poem that can lead your imagination."

So if you've ever wanted to watch James Franco playfully seduce himself, see Natalie Portman morph into a glamorous show girl, or merely gaze as Javier Bardeem goes nuts at a dinner table, this is can't miss high art.
Selected Reading: PopEater, New York Times, Gawker