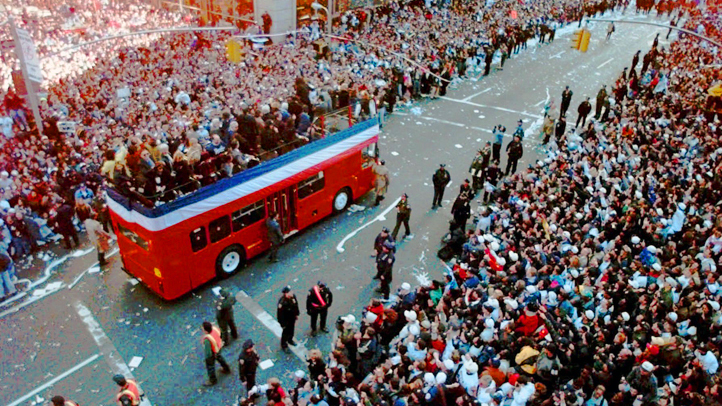 In Boston they drive their champions through the city's streets and down the Charles River on amphibious duck boats. The New Jersey Devils once celebrated a Stanley Cup win by riding around their own parking lot off the Jersey Turnpike.
Only in New York City does a world title earn you a trip up Broadway, through the city's Canyon of Heroes, under a shower of paper, known as a ticker-tape parade.
On Tuesday, the Giants will celebrate their fourth Super Bowl title, making them the latest of the greatest to partake in a tradition that goes back some 150 years.
The very first ticker-tape parade wasn't entirely planned. On Oct. 28, 1886, in honor of the dedication of the Statue of Liberty, the streets of New York were packed with onlookers, evoking a spontaneous display of joy from the city's financial hub.

"All this display was an inspiration to so many imps of office boys, who, from a hundred windows began to unreel the spools of tape that record the messages of the 'ticker.' In a moment the air was white with curling streamers," reported The New York Times. "This was altogether too much fun, and the office boys had to give way to their elders…Every window appeared to be a paper mill spouting out squirming lines of tape. Such was Wall-street's novel celebration."
The idea stuck, and even now, when digital bits and bytes have long replaced tickers, no real heroes' parade in New York is complete without a glorious shower of paper. It's even still affectionately called a "ticker-tape parade" in some quarters.
Joe Timpone, aka The Confetti King, has been launching and cleaning up after ticker-tape parades for more than 40 years, first as a member of the Department of Sanitation, and now in his work with the Alliance for Downtown New York. He says that handing out the paper is almost as difficult as cleaning it up these days.
"We have to get it to all the different office buildings (along the Canyon of Heroes). It used to be that everyone used to have their own ticker machine, but these days no one does. Atlas Recycling out in Brooklyn donated a couple of tons, and some of the office buildings have their own recycling services. They'll call up and ask them to bring paper back."
Timpone has worked a couple dozen parades in his time, during which time he says that probably the biggest hitch he's encountered were small fires touched off by hot tailpipes.
"The paper was so deep, and the cars kept idling so the people in back could wave to the crowd. It was a hot day and the next thing we knew, the paper was catching fire."
Luckily, no fires have been big enough to necessitate a name change.
It wasn't until 1924 that a ticker-tape parade was held in honor of athletes, with Johnny "Tarzan" Weissmuller and the American Olympic team being so honored upon their return from a dominating performance in Paris, where they won more gold medals -- 45 -- than any other country's total medal count.

No parade will ever match the one in celebration of V-J day, on Aug. 14, 1945. Street sweepers worked all through the night to clean the city, only to have the party start all over again the next morning. In all, more than 5,000 tons of ticker-tape -- roughly 100 times the mess from the typical sports champs' parade -- were swept up.

World War II was the beginning of an era when such parades were so frequent as to become a little ho-hum, as the city held 130 over the next 20 years. In fact, they became so regular that in 1950, there were parades on three consecutive days from May 8 to May 10.
And everyone wanted to get in on the popular act. In 1952, Chrysler introduced one of its great innovations, a custom-built Imperial "phaeton," with rear-seat windshield, leather upholstery, red carpet, built-in flag holders and a cushion across the top of the backseat for those who wanted to sit up high.
It was Mayor John Lindsay who reined in the revelry after taking office in 1966, hosting only three parades during his eight years in City Hall. But it was Lindsay who hosted the first parade for a New York City sports champion, in honor of the Amazin' Mets and their 1969 World Series title.

There has, of course, been backlash against the parades, with angry letters being written to the Times as far back as 1904, decrying the "evil" practice that was sure to cause "disaster." And there have been a few honorees that have left the city embarrassed -- men like France's former Prime Minister Pierre Laval, who rode through the Canyon in 1931 as a visiting dignitary, only to be executed in 1945 for treason.
And who can forget Sammy Sosa, who was paraded through the city streets as part of a three-day celebration of his hitting 66 home runs during the 1998 season, only to ultimately have his name turn up on the infamous list of more than a hundred players who failed a 2003 drug test.

The ticker-tape parade business took another hit during Mayor David Dinkins' administration, as the national recession necessitated some belt-tightening, and forced the city to begin seeking outside financing for the celebrations.
On Tuesday, the Giants' parade will start at Battery Place and Washington Street and proceed up Broadway. No tickets are needed to stand along the parade route (though you may need a hall pass from your boss).
Following the parade in Manhattan, a 3 p.m. rally is scheduled at the Giants home, Met Life stadium, in East Rutherford, N.J., where New Jersey Gov. Chris Christie is expected to attend.
If you are lucky enough to have an office along Broadway, or know someone who does, remember this important piece of advice from Mayor Michael Bloomberg in 2009, unless you want to go down on the wrong side of parade history: "You are encouraged to throw confetti out your windows … just don't throw anything heavy out the window — paper only."