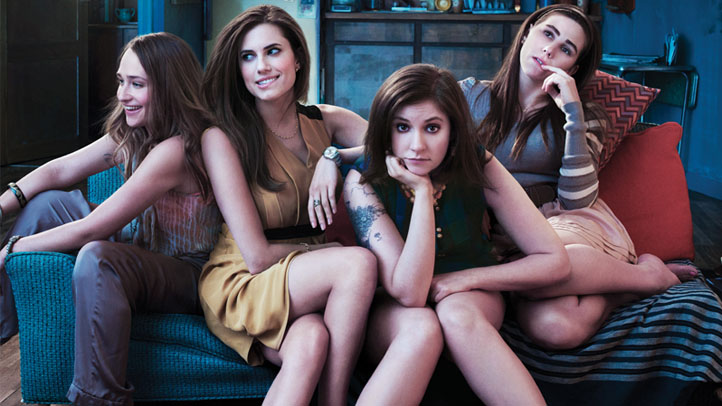 The strongest scene of "Girls" this season – and perhaps the series – came when perennially picked-on Shoshanah lashed out at her supposed pals, calling them a "bunch of (expletive) whiny nothings."
"I'm so (expletive) sick of all of you," she railed during a drunken blow-up at a borrowed beach house.
The emotional scene captured the essence of a season that's proven at times painfully funny, uncomfortable, maddening and occasionally poignant, with glimmers of truth escaping amid often self-obsessed blather.
If "Girls," headed for the third season finale Sunday, hasn't grown up, its growing pains have provided the most compelling outing yet for creator/writer/star Lena Dunham's exploration of over-privileged and underemployed Brooklyn twentysomethings.
Much of this season's tensions stem from the four main pals straddling different planks on the rickety ladder to maturity. After her blunt moment of truth, motor-mouthed Shoshanah grew up fast, taking care of addict and lost soul Jessa – even arranging a reunion for Jessa's middle-aged drug buddy and his adult daughter. Marnie, who constantly tries to control everybody and everything around her, finally loosened up a bit, slowly coming into own as a singer and songwriter (even if she won't end her destructive affair with the mordant Ray).
But Dunham's Hannah might be having the toughest time growing up – or at least figuring out what she wants.
Much of the show's the buzz stems from Hannah's frequent nudity, often in unflattering circumstances, a feature Dunham gamely parodied during her recent winning hosting stint on "Saturday Night Live." But Dunham exposed Hannah in a new, harsher light this season as the character's grating narcissism spiraled out of control.
Hannah buttonholed her editor's widow – at his funeral – to seek a recommendation for a new publisher. She derided her coworkers at the advertorial arm of a big magazine as a bunch of hacks. When her demon-plagued boyfriend, Adam, finally starts to settle down and lands an acting job on Broadway, Hannah's resentment threatens to snap their fragile bond.
The insecurity that fuels Hannah's self-obsession turned pathetic when she donned a blond wig and role-played a desperate housewife in a bid to keep Adam's attention more on her than on his big shot.
For all the nudity, Hannah, in some respects, can be uncomfortable in her own skin.
We saw that last season when her one-day affair with an older, handsome doctor gave her a chance to imagine another kind of life, one more conventional than her delusional bohemia. The underlying sadness we glimpsed last season with Hannah's OCD struggles took on a new poignancy with her the loss of her grandmother. The episode showed that Hannah's bickering aunts and her mother are enmeshed in their own fraught "Girls" dynamic, stretching well into middle age.
Credit Dunham with mixing character growth with some character regression – even if it might be hard for some of us to muster much sympathy for well-educated young women from seemingly financially comfortable backgrounds whose biggest moment of collective angst plays out in a fancy beach house.
But unlike Shoshanah, we're not sick of them yet. Check out preview of Sunday's season finale below:
Jere Hester is founding director of the award-winning, multi-media NYCity News Service at the City University of New York Graduate School of Journalism. He is also the author of "Raising a Beatle Baby: How John, Paul, George and Ringo Helped us Come Together as a Family." Follow him on Twitter.
Copyright FREEL - NBC Local Media