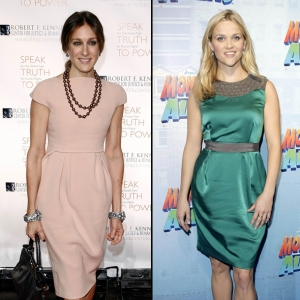 With Spring around the corner, it's getting to be that time to put away the cozy cashmeres and down jackets. So what to wear instead? Luckily, there are a lot of fun Spring fashions to choose from! People StyleWatch's Contributing Editor Lori Bergamotto sorts out the trends and gives us tips on how to wear them!
SURF AND SAND: Spring of course leads us into Summer, so what could be better than beachy colors? Blues and beiges are big. For the blues, Lori says we're talking, "Lagoon blues, which are universally flattering on any skin tone. There's a big spectrum here - any color that resembles the ocean from bright blues to turquoises, almost greens." We spotted Reese Witherspoon wearing a gorgeous turquoise dress this week. As for sand-like shades, these are no longer your boring beiges - even Sarah Jessica Parker has chosen the hue! Plus Lori says, "Beiges are good investment pieces because they go with everything."
VIEW THE PHOTOS: The Latest Star Sightings
RUFFLES: Ruffles are a red carpet staple (Anne Hathaway looked amazing in ruffled Oscar de la Renta at the premiere of "Rachel Getting Married") but how do you translate the look into every day? According to Lori, "the key to this season's ruffles is that the cascade is really soft. It's not over the top tutu style!" This season ruffles are prominent on skirts and tops in neutral and pale colors, which adds sophistication. And don't be afraid to wear ruffles to work. "A ruffled tank can soften up a really conservative suit."
NEON: "This is a throwback to the 80's but in a less offensive and aggressive way. In the 80's we wore neon head to toe. In 2009, take neon and incorporate it into an otherwise neutral outfit," Lori says. Limit the neon to one piece. Accessories, like a bright pink pair of pumps or a yellow necklace, work great - especially since you can add that shocking pop of color without spending too much!
VIEW THE PHOTOS: Jessica Simpson
HOBO BAGS: Jessica Biel and Jessica Simpson love their Hobo bags. Lori says that when it comes to these bags, "You want two things: the slouchy shape and something extra, an added detail. That could mean hardware like grommets or a chain. Or it could just mean braided trim." The great thing about hobos is that they come in all different fabrics, sizes and colors. And here's a tip: If you want to wear the trend but also be able to carry it next season, Lori says "Get it in a fabric that's seasonless like leather or in a color that's seasonless like tan. Be a savvy shopper."
Related Content from AccessHollywood.com:
VIEW THE PHOTOS: Reese Witherspoon
PLAY IT NOW: Sarah Jessica Parker Confirms 'Sex' Sequel On 'The Billy Bush Show'
PLAY IT NOW: Access Archives: Reese Witherspoon

MORE ACCESS ON THESE TOPICS: Style - Sarah Jessica Parker - Glam Slam - Reese Witherspoon

Copyright NBCAH - Access Hollywood