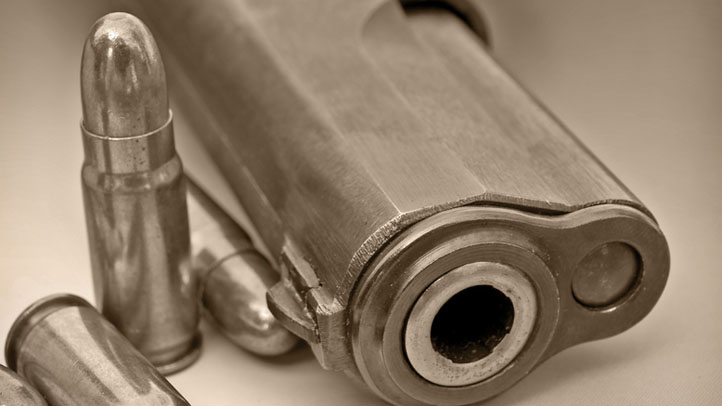 In March, 4-year-old Codrick McCall Jr. accidentally shot and killed himself after he found a loaded handgun in a caregiver's house in Texas.
"I'm still processing the pain," his mother Ashley Beal said Monday.
She's not alone. About two dozen children have died from accidental shootings involving minors since the start of 2015, according to an analysis of media and police reports gathered by gun control advocates. More than 50 more kids were injured in similar incidents, the groups found.
Now, gun control groups are seeking to lower those figures with a new campaign aimed at raising awareness and promoting safe storage of weapons.
"I am here to do everything I can to prevent other families from losing their love ones," Beal said.
Everytown for Gun Safety and Moms Demand Action for Gun Sense in America, which launched the public education campaign Be SMART on Monday, say their intent is not to take away gun ownership rights, but to take a preemptive step that would help keep guns out of the reach of children.
"The goal here isn't to scare anyone, but rather to demonstrate that we have the power to help prevent these tragedies before they happen," actress Melissa Joan Hart said at a press event in Washington Monday.
Joined by parents and survivors of child-involved shootings, the groups also launched the #NotAnAccident index, an online interactive map that tracks unintentional shootings by children across the country. The latest victim is a 16-year old in Pennsylvania, who accidentally shot his foot with a sawed-off gun. He remains hospitalized in critical condition, according to reports.
Missy Jenkins Smith, a Kentucky mother of two whose husband is gun owner, was paralyzed in a school shooting when a 14-year-old found an unsecured gun in a garage at friend's home, brought it to school and opened fire.
"What I am passionately against though is irresponsible gun ownership – guns that are accessible to anyone, especially children," said Smith in a statement. "I was immediately drawn to the Be SMART effort for one simple reason – because at its core is common sense."
The advocacy groups plan to host gun safety awareness events across the country and provide one gunlock for every supporter who completes the online gun safety quiz on BeSMARTforKids.org.
The National Rifle Association said in a statement Monday, "The NRA believes that one accident is one too many, which is why we do more than any other organization in the world to promote the safe and responsible use of firearms. The NRA teaches people how to prevent accidents from happening and has been successful in saving lives while, Moms Demand Action and other anti-gun groups funded by billionaire Michael Bloomberg exploit tragedies and use gun safety as nothing more than a talking point to further a political agenda that infringes on law-abiding citizens' right to self-protection."
The NBC Owned TV Stations Washington Bureau contributed to this report.