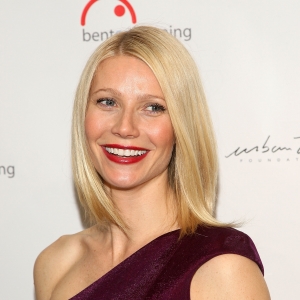 Gwyneth Paltrow may be an accomplished actress and an Oscar winner – but she's admittedly not much of a movie history buff – unless she's talking about "Revenge of the Nerds."
"When it comes to knowledge of film history, I'm semi-rubbish," Gwyneth revealed in her latest GOOP newsletter. "[But] I can do the whole rap at the end of 'The Revenge of the Nerds' and all of Jeff Spicoli's dialogue [from 'Fast Times at Ridgemont High'], but sadly, my expertise ends there."
VIEW THE PHOTOS: It's Glamour… It's GOOP… It's Gwyneth!
Although she noted she is a very big fan of cinema, "whether it is an exceptional documentary, a classic or a Seth Rogan [sic] vehicle," Gwyneth is more than willing to defer to her celebrity friends when it comes to recommending a good movie – in this case, directors Steven Spielberg, Wes Anderson, Jon Favreau, Sophia Coppola and her "Two Lovers" director James Gray.
In her latest GOOP newsletter, titled "SEE," Gwyneth offered these five Hollywood heavyweights a chance to name their top five DVD rental picks.
VIEW THE PHOTOS: Spring Movies 2009
First up was Spielberg, whose picks included "The Best Tears of Our Lives," "The Godfather" and "Tootsie."
"These are not necessarily my all-time favorite films… but good choices to rent and enjoy!" the iconic director said.
When it came to Wes Anderson, who Gwyneth described as "one of the most specific directors I have ever worked with," his picks were not quite as mainstream.
VIEW THE PHOTOS: Moviefone Poll: Top 10 Movie Presidents
Anderson, who worked with Gwyneth on "The Royal Tenenbaums," suggested such films as "Life Lessons," "Terror's Advocate" and "Neon Genesis Evangelion" – which he described as "a Japanese cartoon that is very difficult to describe and might not sound that great if I tried anyway."
As far as Jon Favreau, who directed Gwyneth in "Iron Man," his selections ranged from culinary to cartoon, with such titles as Bravo's "Top Chef Boxed Set" and "Kung Fu Panda."
"My seven-year-old son said 'Iron Man' was his second favorite film last year. This one was his first," he noted of "Kung Fu Panda."
Much like Spielberg, James Gray also opted for "The Godfather," as well as "The Godfather Part Two" – lumping the two together for one suggestion.
"Yes, two movies, not one - I'm not cheating. These two classics are impossible to separate, bound together by story, cast, theme, look and greatness," Gray said.
Meanwhile, when it comes to renting a movie, Sophia Coppola clearly prefers a laugh, as her recommendations included "Tootsie," "The Heartbreak Kid" and "Chris Rock – Never Scared."
The full list of the director's picks:
Steven Spielberg:
The Best Years of Our Lives
Captain's Courageous
The Godfather
The Searchers
Tootsie
Wes Anderson:
Terror's Advocate
Neon Genesis Evangelion
From the Life of Marionettes
Life Lessons
Missing.
Jon Favreau:
Seven Samurai
Kung Fu Panda
Top Chef Boxed Set
Visions of Light
Westworld
James Gray:
Rocco and His Brothers
The 400 Blows
Singin' In The Rain
The Godfather/The Godfather Part Two
Tokyo Story
Sophia Coppola:
The Last Picture Show
Tootsie
Chris Rock - Never Scared
Heartbreak Kid
Let the Right One In
Related Content from AccessHollywood.com:
PLAY IT NOW: 'Two Lovers' Premiere, New York
PLAY IT NOW: Access Archives: Gwyneth Paltrow

MORE ACCESS ON THESE TOPICS: Gwyneth Paltrow - Movies - Celebrities

Copyright NBCAH - Access Hollywood